Motivation is what drives people to succeed in life.
When one is motivated, they tend to strive harder to accomplish their goals and everyday tasks.
This rings true for our children as well.
When our kids are encouraged to be internally motivated, they can take things upon themselves and do tasks without being asked.
This takes time, effort and work on your part though.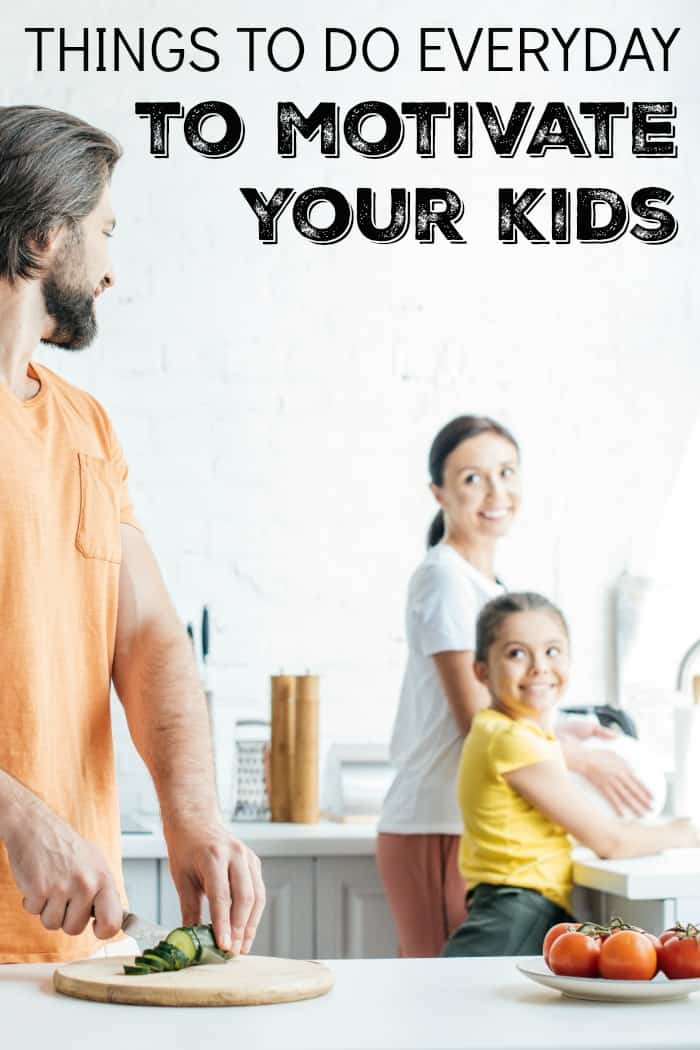 7 THINGS TO DO EVERYDAY TO MOTIVATE YOUR KIDS
Children are not always naturally motivated, and it is up to us as their parents to help them develop their motivation.
There are a few things that you can do every day to motivate your kids, inspiring them to eventually be self-motivated.
SET GOALS
Sit down together and write a list of short-term goals daily.
Goals like getting into the after-school routine by cleaning up their backpacks, picking up laundry and helping with the dishes.
Make sure the goals are realistic, especially if they are being done daily.
HAVE A PLAN
When attempting to reach a goal you will need a plan.
Have your children create a strategy for reaching their goals and break it down into steps.
If you have specific chores your child will do daily or weekly, break them down using this Paint Chip Chore Chart.
CELEBRATE ACCOMPLISHMENTS
It is important to ensure that you help your children celebrate their accomplishments.
This will motivate them to reach their goals in the future.
ENCOURAGE THEM
Encourage your children every day by helping them dismiss any fears or self-doubt they are experiencing.
Words of encouragement are important in everyone's life and can make a big difference day to day.
TAKE INTEREST
It is important that you listen to what your kids have to say every single day.
Show them that you are interested in their lives, their successes, and failures.
When you sit down to a family dinner, have each person say one good thing and one bad thing about their day.
Talk about how the situation was handled or how it could have been handled better in the future.
BE AN EXAMPLE
Model motivation.
When your children see that you are motivated to accomplish a task, sticking with something and not giving up, it makes your children want to succeed too.
HAVE FUN
Have some fun completing your everyday tasks.
This will get your kids excited and motivate them to accomplish what's on their plate.
It is important that you and your children do these things every day to remain motivated and focused on achieving their goals.
You may also like this post on RAISING INTERNALLY MOTIVATED CHILDREN:
Sign-up to get an email update each day. Also connect with us on: