Sink or Float is one of my favorite science activities.  Water activities are always a hit.  The idea of making a prediction and conducting a scientific experiment.  The children experience weight, density, and buoyancy in the comfort of the classroom or home.  The set up is so simple, and it can be changed with seasons, unit studies, or themes.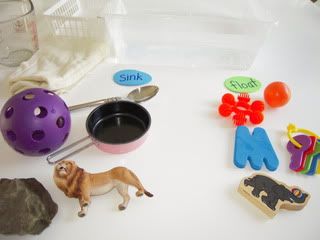 waterproof signs that read "sink"  and "float"
even amounts of water-safe items that either sink or float
a container full of water
a tool for fishing out the objects
towel or sponge for drying objects
When given the opportunity to test out many objects, children will start to make connections between weight and the outcome of each object.  They will begin to notice if the material (wood, plastic, rubber, metal) of the object has something to do with sinking or floating.  After time, they may notice the water level rise when testing more dense items.
I like to take this activity outside in the warm weather, to allow for full exploration with toddlers.  Water tables and bathtubs are wonderful for Sink or Float, too.  In the classroom, all items are on a big tray, to avoid floods.  When putting this activity together, be sure to test the items yourself.  I was so surprised, I predicted the wrong outcome a few times.
After working with Sink or Float, I love reading the Rookie Read About Book, Will It Float or Sink?
Roll up your sleeves and make some discoveries!
Written by Jessie Beerman, M. Ed, from The Education of Ours,
a blog about Montessori Education for the home.
Jessie is a proud mom to three daughters, and a Montessori Teacher
who dabbles in writing, art, and yoga.