This week, I'm sharing a lesson I put together during my Montessori Training. It's been an old favorite in my home and in my classroom for years. When it gets chilly and it's time to go choose pumpkins, I always look forward to putting this work together. The materials used for this activity can be used for all types of washing/polishing work.
Newly picked pumpkins are dirty, this Practical Life activity is very practical!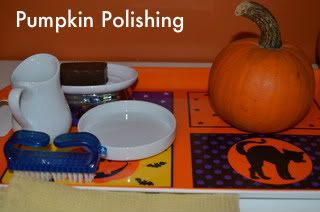 MATERIALS:
Water-safe tray
Pumpkin (any size)
Tiny bowl
Towel
Sponge
Scrub Brush
Soap
Soap dish
PRESENTATION OF THE LESSON:
Get water from the sink, directly into the small bowl
Wet brush, and shake the drops out
Dip on soap lightly
Scrub in circles, clockwise and counterclockwise
Rinse brush and shake out the drops
Use sponge to wipe off pumpkin in lines going towards you
Use the towel to dry off the pumpkin tray and the pumpkin
Pour tiny bowl into the sink away from you
Dry out bowl with towel
If towel is to wet for the next friend, get new towel for work and hang up wet towel
Tidy up
Pumpkin washing is our family's favorite way to greet Autumn.
NOW it's your turn to share!
Jessie is a Primary Montessori Teacher and Mom to twin three year olds and a five year old. Jessie has a Montessori blog at The Education of Ours, and can be found on Twitter.