We've talked a lot on Mommy Moment about Moms needing and deserving some "me time". We have heard from a lot of our readers letting us know what they would love to do for some me time.
bubble bath
reading a book
nap
tv show
working out
and a HUGE majority of you said you loved to sit down and relax with a cup of coffee!
Why not sit down with that cup of coffee all the while knowing that you are helping the environment. OneCoffee offers a solution to those concerned about the disposal of other single-serve cups. They offer you the world's first biodegradable, organic and fair trade single serve cup!
Because other standard single-serve cups that are made of plastic, a coffee filter, grounds and plastic foil on top, it is hard to separate and dispose of each portion for proper recycling/cleanup. The OneCoffee Single Serve Cups soft bottomed cups use 40% less plastic than the standard cups, are 90% biodegradable, and packaging is carbon neutral.
OneCoffee has a range of flavors and you can be sure that one of these great flavors will become your favorite:
Breakfast Blend — rich & exotic
French Roast — dark, daring & delicious
Decaf Dark — dark & decafinated
Columbian — tangy & medium
Peruvian Dark — sweet & delicious
Sumatran — dark, earthy & caramelly
Ethiopian — light to medium
My husband is a HUGE dark coffee fan and fell in love with the Peruvian while I enjoy the Breakfast Blend or the French Roast.
All coffees are fair-trade and organic and each flavor is compatible with K-Cup style brewers. OneCoffe's single-serve cups are individually wrapped for freshness and safety.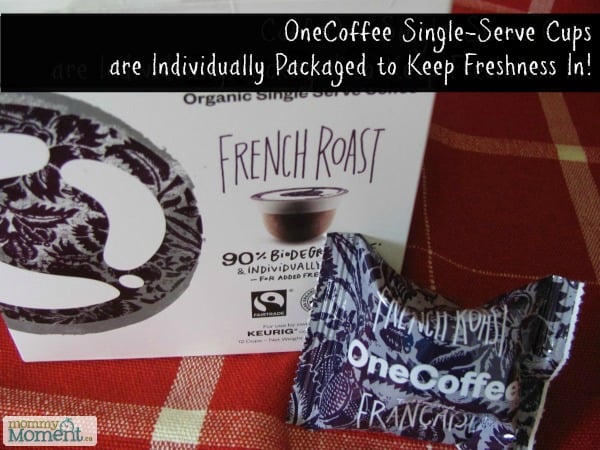 OneCoffee is brought to you by Canterbury Coffee. Canterbury Coffee was established in 1981, driven by a spirit of innovation, Canterbury Coffee has steadily grown to become one of Canada's leading roasters and the only one with roasting facilities on both sides of the nation. It is a journey filled with purpose – continuously seeking out new opportunities to improve, to grow, to adapt. We are serious about our coffee and of upholding our reputation for producing only the finest quality products.
GIVEAWAY MOMENT:
1 Canadian Mommy Moment reader will WIN a OneCoffee prize pack featuring 5 boxes of single-serve cups!
To enter, leave a blog post comment telling us which coffee flavor you think you would enjoy the most.
**GIVEAWAY CLOSED**