There is no description, no image in any book that is capable of replacing the sight of real trees,
and all the life to be found around them, in a real forest.
Something emanates from those trees with speaks to the soul. ~ Dr. Maria Montessori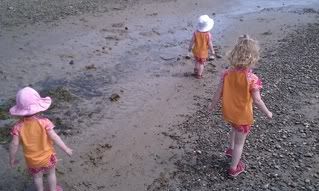 It's amazing to me how true this statement remains, as nature has a strong pull for the child. Recently, I watched as my own children ignored all of their outdoor toys to dig their toes in mud and search for insects under rocks. I'm finding that nature provides it's own entertainment and learning environment. We like to go on Nature Walks, where we walk together observing our surroundings. All is quiet until the first discovery, "Look Mom, a Cardinal!" You may find that a Nature Walk is a wonderful introduction to Montessori Science puzzles and materials for classification.
Our role as grown-ups is to set up experiences where the child can explore the great outdoors.
Dress Appropriately for the season and trail.
Go. Outside. Often.
Record and reflect. After the walk, it's important to take the time to absorb what was seen, heard, touched. My girls like to create art as a nature journal. Sometimes, we write little poems about it, or collect items for a Nature Table within our home.
Go outside and enjoy, you'll have fun!
Written by Jessie Beerman, M. Ed, from The Education of Ours,
a blog about Montessori Education for the home.
Jessie is a proud mom to three daughters, and a Montessori Teacher
who dabbles in writing, art, and yoga.