This post is in partnership with Incredible Novelties as part of our #31DaysOfGifts Giveaway Event. These posts are features of products and do not depict our regular writing style.
This page may contain affiliate links for your shopping convenience, and while the links help support the blog as we may earn a small commission, there is no extra cost to you, our readers.
Foam Alive! comes to life when you play with it!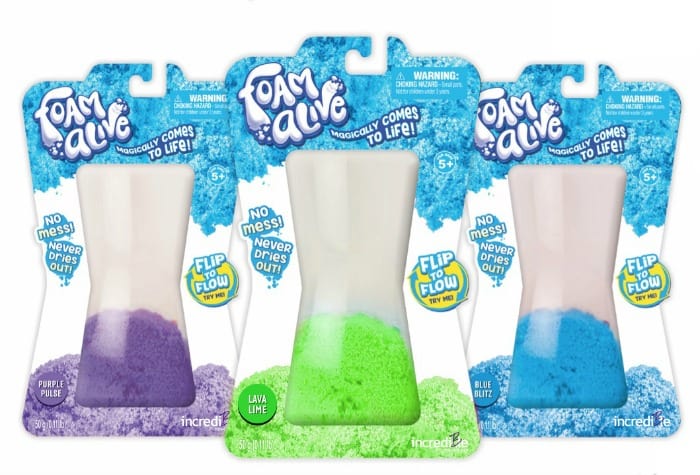 Compress it into any shape; a ball, mountain, square, any shape at all, and it slowly separates and starts to flow like magic.
Almost looks like there is something alive inside of it!
You have to see and feel it to believe it!
Collect all 3 colors and share the fun! Available in Purple Pulse, Lava Lime, and Blue Blitz.
Stretchy Sand is like 3 toys in one!
It's solid like clay. Flowy like sand. And stretchy like slime.
You can knead it, build shapes with it, or stretch it for hours of fun. Keep it stored in the re-sealable tub.
Available in four colors: pink, purple, green and blue.
GIVEAWAY MOMENT:
1 CANADIAN Mommy Moment reader will WIN a Foam Alive & Stretchy Sand prize pack!
To enter, leave a blog post comment telling us which colors your child would love.
Remember to visit our CHRISTMAS GIFT GUIDE to see more great gift ideas and giveaways.
You can sign-up to get an email update each day. You can also connect with us on: