The Montessori Botany Cabinet is a classic science material, to introduce and explore the various shapes of leaves. This week's activity is an extension on the work, to be used once all lessons with the Botany Cabinet are complete. Punching with a tack or pin can be an amazing fine motor activity which can reinforce the leaf shapes and names. Before presenting this work, be sure that the child or group of children are ready to handle a sharp object (under strong supervision), and that they have had plenty of work tracing with Metal Insets. It holds their concentration very well!
You'll need:
A Botany Cabinet
Thick felt or a carpet sample
A large tack or wooden puncher
Cork or a container for the puncher
Construction Paper
Metal Inset Paper
This one was done by one of my three year olds. It's an elliptical leaf. She glued it to a piece of metal inset paper, and grabbed another leaf to punch!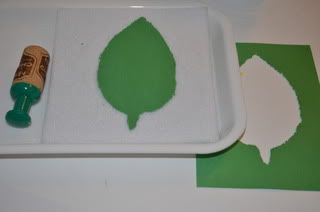 Jessie is a Primary Montessori Teacher and Mom to twin three year olds and a five year old. Jessie has a Montessori blog at The Education of Ours, and can be found on Twitter. See her other Mommy Moment posts here.