This is an activity I use with toddlers or three year olds, when they start to show an interest in writing their name. The Rainbow Name is a great activity for muscle memory in writing that I picked up from a fine motor workshop. I found it a good fit in Montessori, as it will help little ones feel more independent. Once a child can write their name, they do not need to ask a teacher or an older child each time they complete art or write a note to a friend.
Before introducing a Rainbow Name, I make sure the child has had plenty of practice with drawing, metal insets, puzzles with pegs, and sandpaper letters. All of those materials help strengthen the hand, and the ability to trace or make straight lines. It is important to add that children should also be allowed plenty of time to practice writing their name by sight, with their name printed nearby on paper or sandpaper letters.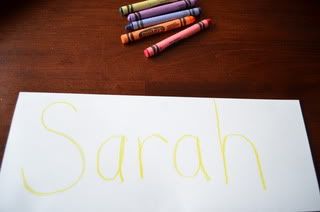 All you need is crayons or colored pencils, paper, and an adult to write the name first. I tend to make plenty of these ahead of time, so that anytime my children want to practice their name, they can just pick up the colors and trace over my writing. Repetition is a key Montessori concept, so tracing with each color gives the child many chances. I usually choose yellow first because it it light, and the other colors will highlight it well. Children love the Rainbow name for cursive, too!
Jessie is a Primary Montessori Teacher and Mom to twin three year olds and a five year old. Jessie has a Montessori blog at The Education of Ours, and can be found on Twitter.