I am proud to be one of the Guidecraft Educators. Each month we bring you reviews of Guidecraft products and also give you the chance to win one of the same products for yourself.
This month each of the reviewers were sent a Little Lectern.
The little lectern is very well constructed. It is made of walnut-stained birch plywood and solids with baseboard molding. It features a pull-out carpeted riser that nests inside the unit when not in use. It is 18″W x 17″D x 40″H. It took my husband about 20 minutes to assemble using his own tools (an Allen key was provided).
The Montessori classroom does not typically have a desk or teacher area in the same way a traditional classroom may, so I was interested to see how the little lectern could work in a home environment with children.
Once the lectern was set up my daughters instantly filled the shelf with favorite books and got up to read. They were so excited to stand up on the little step and speak to their imaginative audience. I can see how the little lectern would be an good fit for a dramatic play area. My daughters have used the little lectern in our home in many ways:
puppet shows
play church
to hold music while playing violin
read books
tell stories
present written work
pretend to be a comedian
I noticed a sense of pride and confidence when my girls were standing behind the little lectern. I plan to donate the little lectern to my daughters public school or the local library and could also see it being a valuable asset to a home school environment or a kids church program.
Guidecraft is a brand that I have come to personally trust. They have been in business for 46 years. I appreciate their expert quality, excellent service and their ever growing collection of creativity inspiring products for children.
Want to WIN the Guidecraft Little Lectern?
Valued at $200 USD
Head on over to SimpyStacie to enter, but hurry, the giveaway ends November 15, 2011 at 11:59 pm EST. Open to US & Canada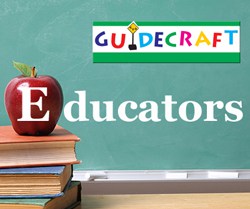 The Mommy Moment reviewer did not receive any financial compensation for this review, though a sample of the product was received for evaluation purposes. The opinions are based on the reviewers personal experiences with the product.
Be sure to check out the Mommy Moment Gift Guide while you are here!