Tis the season for BBQs, cookouts, and bonfires.
From cheeseburgers to campfire s'mores, the delicious possibilities are endless and lounging on the beach isn't going to help burn off all those yummy calories.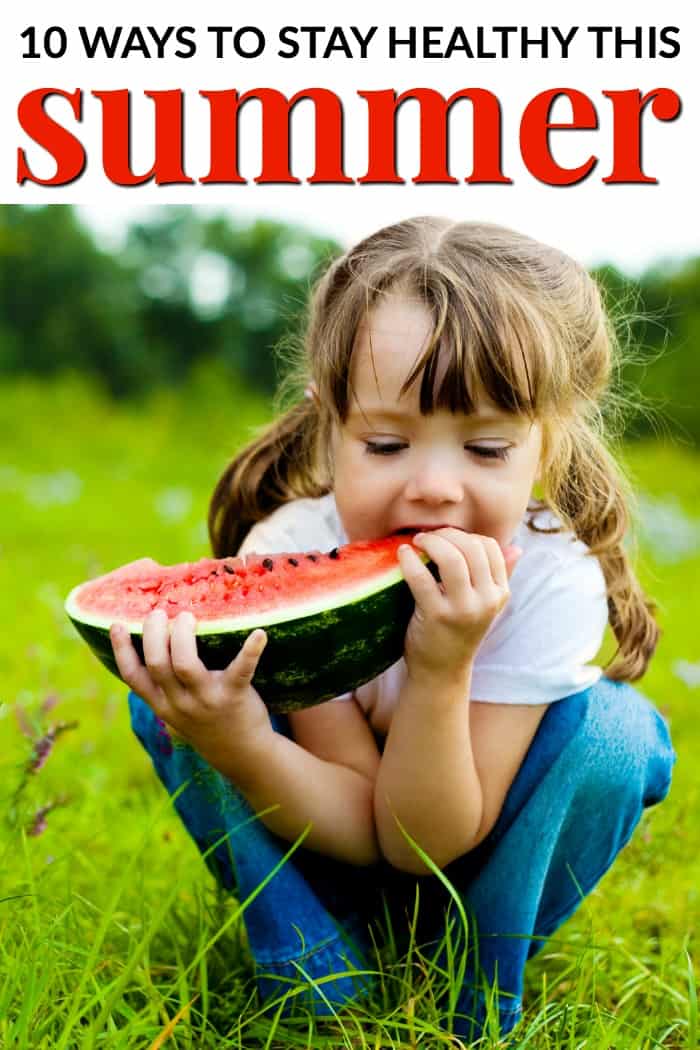 10 WAYS TO STAY HEALTHY THIS SUMMER
This page may contain affiliate links for your shopping convenience. The links help support the blog as we may earn a small commission at no extra cost to you, our readers. As an Amazon Associate, I earn from qualifying purchases.
So how do you stay healthy over the summer months when you are surrounded by so much temptation?
The truth is, it's not as difficult as you may think.
OPT FOR SEAFOOD OPTIONS
Summer is actually one of the best seasons to get the freshest catches from your local grocery store.
Choose to grill things like steamer clams, tuna, lobster or calamari for a protein-packed, delicious and low-calorie BBQ option.
Try these Shrimp Tacos with Pineapple Salsa for a summer treat!
TRY GREEN TEA INSTEAD
Instead of opting for the delicious sweet teas that are jam-packed full of sugar, try green tea instead.
Green tea is packed full of natural components that speed up your metabolism and is actually delicious served cold.
ENJOY SEASONAL FARE
With summer comes fresh choices for fruit and vegetables.
Give your body a nutrient kick by having fresh, seasonal fruit and vegetables available at all times. Watermelon, strawberries and other seasonal items are perfect to snack on.
DON'T SKIP BREAKFAST
Never skip breakfast.
It is truly one of the most important meals of the day.
Eating a well-balanced breakfast helps to get your metabolism working for you instead of against you and provides you the energy you need for the day.
STAY HYDRATED
The warm days of summer make it more likely to become dehydrated.
Make sure to carry a water bottle with you at all times and start your day off with a large glass of water.
MEAL PLAN
Menu planning will help you to avoid the last-second grab and go.
Usually, when we are trying to grab something quick to eat on the go, we opt for less healthy options.
In fact, you can prep healthy meals in advance, especially if you know that you will be on the run often.
This will make your grab and go option, a healthy one.
MAKE YOUR OWN TREATS
If you want to have a delicious frozen treat to cool you down, make your own.
Popsicle molds are generally easy to find and allow you to be able to make cool treats without the added sugar or calories.
Simply fill the mold with fruits, yogurts and natural juices to make a delicious treat.
START A GARDEN
Growing your own fresh vegetables is a great way to stay healthy over the summer months.
It is always more fun to eat fresh veggies out of your own garden. Not only that, but gardening itself is actually beneficial to your health!
KEEP MOVING
Get moving as often as possible.
Go for a long hike, take a walk on the beach or go for a long bike ride.
The weather is perfect to get yourself outdoors, moving and burning calories.
RELAX
While it is good to stay active and make healthy food choices, there isn't anything wrong with taking some time to relax too.
Don't forget to take time for yourself to de-stress and do something you enjoy.
It is good for your mental health, and that is important too.
Staying healthy during the summer months doesn't have to be complicated. Just remember to make healthy choices when possible, stay hydrated and keep moving.
And remember, your kids follow your lead. So if you are making healthy choices so are your children!
You may also like this post with 30 REASONS TO GET OUTSIDE WITH THE KIDS THIS SUMMER:
Sign-up to get an email update each day. Also connect with us on: