April Showers Brings May Flowers!
Happy April Everyone! We are finally beginning to see the grass and a few signs that spring is on it's way. Disney Junior has some exciting things happening in April.
Disney Junior is excited to bring a BRAND NEW series to your TV — Henry Hugglemonster!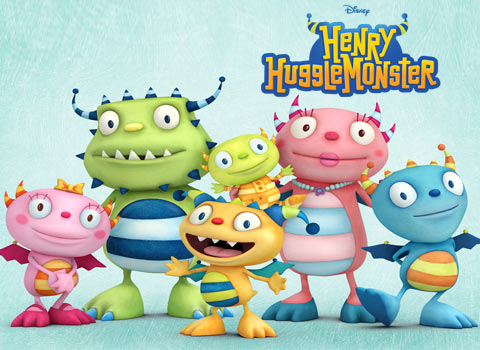 Henry is a typical five-year-old middle child who lives in Roarsville. He loves his family, enjoys playing outside with his friends and says exactly what he thinks the moment it pops into his head. He's just the sort of high-energy kid who might live right down the street or even in your own home. Except, of course, for one small detail; Henry is a monster! Each 22-minute episode of Henry Hugglemonster features two 11-minute stories that take preschoolers and their parents on Henry's adventures as the young monster plays with his friends and tries his best to get along with his three siblings.
My little one will be turning 5 this summer and cannot wait for the premiere of Henry Hugglemonster. Since he is so excited about this show, our PVR is already set to tape on Sunday April 21st, at 12:30pm EST. After the premiere, you can catch all new episodes of Henry Hugglemonster Sundays, at 12:30pm EST — and ONLY on Disney Junior.
Also, if you are a Mickey Mouse Clubhouse lover, you will want to set your PVR for 1/2 an hour earlier — right before the Henry Hugglemonster premiere.
Quest for the Crystal Mickey is a 30 minute special episode featuring our favorite Mickey Mouse Clubhouse characters.
Plunderin' Pete has snatched the legendary Crystal Mickey statue from the Clubhouse! Worse yet, without the magic of the Crystal Mickey, the Clubhouse starts to sink into the ground, never to be seen again! We have to get that statue back! A nail-biting, high-stakes adventure like this requires an extraordinary hero to lead the way, namely, Kansas City Mickey! With K.C. Mickey in charge, and the help of us at home, not even Plunderin' Pete's trickiest traps can keep us from recovering the Crystal Mickey and getting it back just in time to save our beloved Clubhouse.
Looks like Sunday April 21st, is a good day to have a PVR.
Hope all you Disney Junior fans are seeing signs of spring wherever you live.
"Disclosure: I'm part of the Disney Junior Mom program and I receive special perks as part of my affiliation with this group. The opinions on this blog are my own."