When I think of Saturday morning, coffee, comics and pajamas come to mind. My husband loves nothing better than to sit and read the the comics – it's always the first thing he reads. (Yes, even online – he always reads his favorite comics before checking out the news).
I'm thrilled to announce that our Carl's Life Cartoon feature is back on Mommy Moment.
If you are not familiar with this feature – you can find the Carl's Life Cartoons under the humor tab above.
Saturday Pajamas Cartoon
Does your man ever come home to find you in pajamas?
You can bet my husband does!!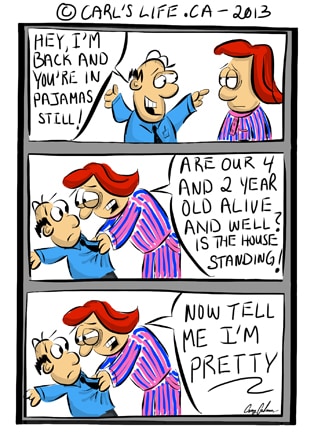 Happy Saturday everyone – hope you enjoy your day whether it's a pajama day or not 🙂
Take a look at our Humor board on Pinterest.
Cory Graham is married to his university sweetheart and father of two children. Drawing Carl's Life cartoons helps him to express that, what comes naturally to most, does not come naturally to all. All of life's short comings are funny given enough distance and the right angle. Cory's main philosophy is, "Live life and laugh at it".