This week I painted sailboats! I've never actually been on a sailboat before but it's something that is definitely on my bucket list and having mini sailboats almost makes the dream a little closer to reality. I'm not sure what exactly made me think of painting Sailboat Nail Art but I wanted something different than anything I had painted before, which is something that is getting hard to do, and this is what came to mind!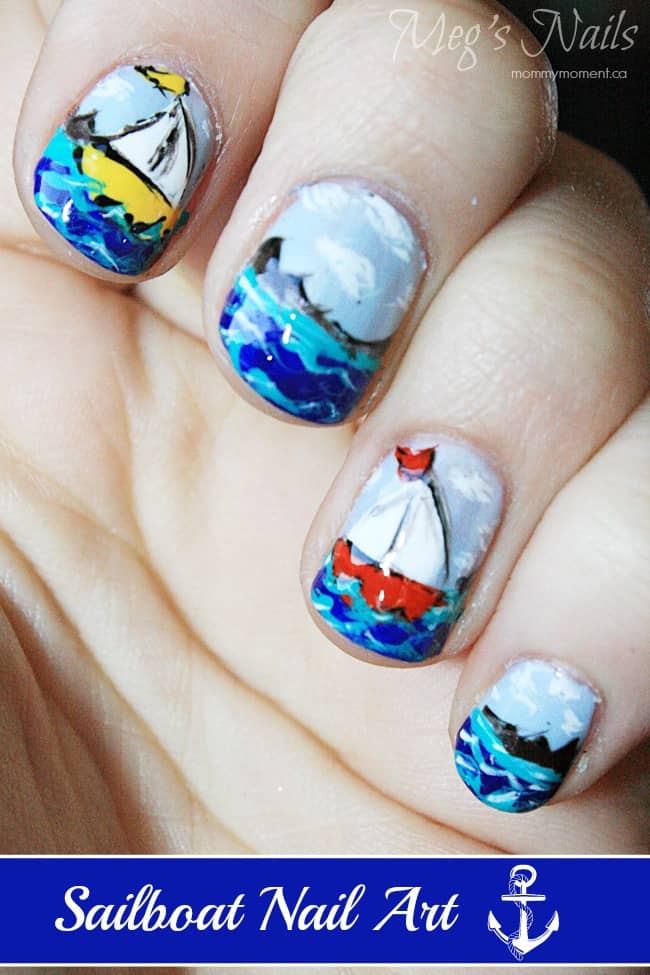 Often when I have an idea but I'm not sure how to paint it I Google paintings of the object. I'll take ideas from what artists have painted on canvases and that helps me visualize the design if I'm having trouble. It is a great way to generate ideas while still making the design your own. This design is fairly easy you just need to make sure you put the colours on in the right order.
Starting with the light blue base paint your whole nail then draw the bottom of your boat with any bright colour you choose, adding the dark blue water around it. Next you make waves with a medium blue with them splashing up into the space of the bottom of your boat. Then with the white you make the sail, the clouds and outline the waves. Now add your brown mountains in the background and outline the sailboat with the brown too. Also use some black to outline the boat, and the mountains, but make sure to wipe most of the polish off the brush before using it, you don't want to get too much black, it's meant to enhance, no cover up. (Just like makeup!)
Oh, and don't forget to add the flag on top! Now your sailboats are real and you can image yourself on the deck, with wind in your hair and sun on your skin.
To see more beautiful nail art created by Meg, check out our Nail Art and Design Board on Pinterest or follow Meg on Instagram at megsnails1360.
You can sign-up to get an email update each day. Connect with us on Pinterest, Instagram, Facebook and Twitter.