If you are looking for another quick and easy dessert here it is! This simple Peanut Butter Rice Krispie Roll log takes your ordinary Rice Krispie square up a notch and tastes delicious.
This recipe takes me back to the days when I was in middle school and just learning how to bake in the kitchen. It was a dessert that was simple enough that my mom would let me do it all on my own (or so I thought. I imagine that she actually had her eye on me) and it turned out yummy every time.
So if you have a young baking protege in your family, this one is a fairly safe bet to get them started on their baking career. I have tweaked the recipe a few times since those initial days of baking and now I think it is pretty near perfect.
PEANUT BUTTER RICE KRISPIE ROLL
This page may contain affiliate links for your shopping convenience. The links help support the blog as we may earn a small commission at no extra cost to you, our readers.
PRINTABLE RECIPE AT BOTTOM OF POST
After you have mixed your Rice Krispies into the marshmallows I would recommend using your hands to press it into the pan. I simply dip my hands in some warm water so they do not stick, and then it is easier to get the mixture all the way to the corners and pressed in tightly.
Then after I have rolled up the log I immediately put it in the freezer. If you try cutting it into pieces right away it will fall apart. So keep it in the freezer for an hour or so and then take it out and cut it.
Often what I do is cut the whole log into pieces and place half in one ziplock bag and half in another and place them back into the freezer until we want to eat them.
You can also store it in your fridge in an airtight container too though.
This recipe is super simple and delicious and I hope you give it a try!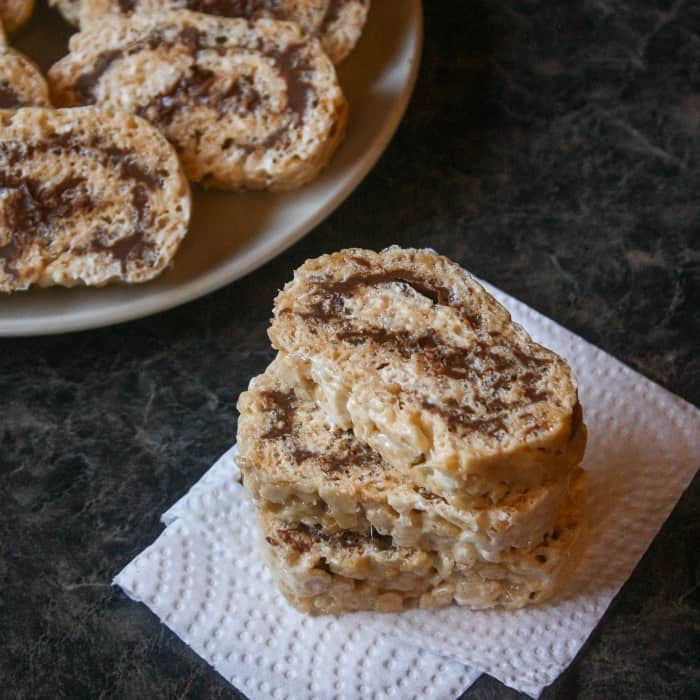 PEANUT BUTTER RICE KRISPIE ROLL
Instructions
Line a cookie pan with parchment paper and set aside

In a large microwave-safe bowl combine the marshmallows, margarine and peanut butter. Microwave on high for 1 ½ minutes; stir until combined.

Stir in cereal and press onto the prepared pan.

Melt the chocolate chips and peanut butter in the microwave and spread an even layer over the cereal mixture.

Roll up, peeling the parchment paper away while rolling, and place seam side down on the pan. Freeze for 1 hour, then cut into pieces.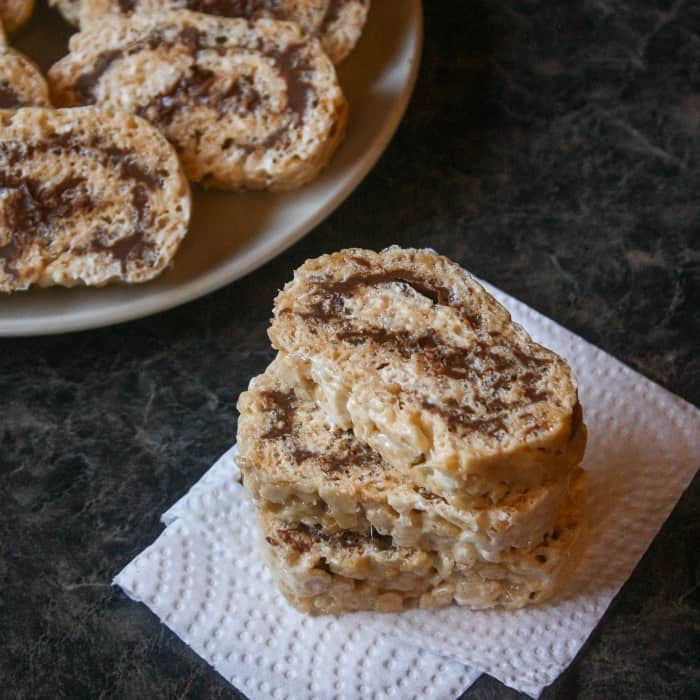 I'm Megan. I love to bake! I am a 19-year old student in my second year of Bible college, and after this year I plan on going through a baking and pastries program to learn more about baking. One day I hope to work for a bakery or maybe even own my own bakery! For now, I love baking for friends and family and we'll see where God takes me in the future. If you want to see more baking check out my Instagram @baking.memories.