This paper plate pie craft is guaranteed to be one of the cutest paper plate crafts you will come across and it is a lot of fun to make!
Summer is the time when Upick farms are open and fresh berries are on plants just waiting to be picked. While kids love going along to pick delicious berries (and perhaps eat more than they take home) this paper plate pie craft is a great craft idea for after the berries are picked and mom is baking that delicious berry pie!
PAPER PLATE PIE CRAFT
For this paper plate pie craft you will need some basic supplies.
MATERIALS: (I have included amazon affiliate links for your convenience)
DIRECTIONS:
1. Cut your light brown paper into about 12 strips, a little under 1″ wide.
2. Now wrap your pink tissue paper squares around the eraser of your pencil.
3. Dip the wrapped paper into your Elmer's glue then press the paper onto your paper plate.
4. Fill up the inside circle of your paper plate repeating step 3.
5. Now glue your light brown paper strips across your plate, leaving a small space in between each piece.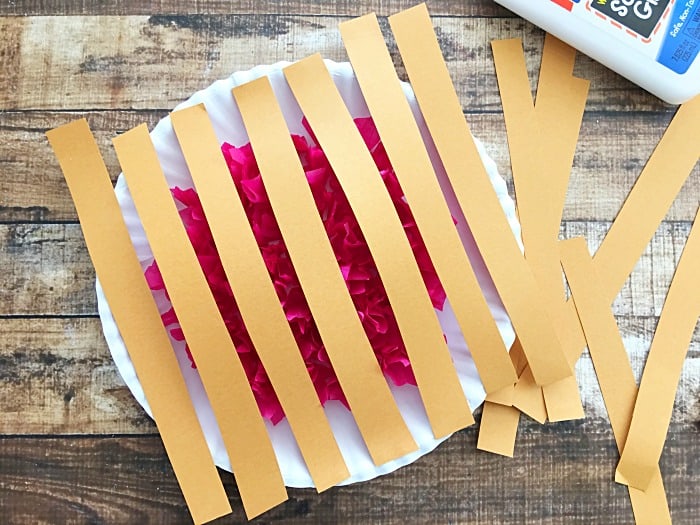 6. Turn your plate the opposite way and begin weaving the rest of your paper strips in and out of the others (if the children are young, they may need some extra help with this step) then glue, and trim any excess off.
Now you have the most delicious looking paper plate pie craft that will make you crave the real thing! This strawberry shortcake pie may just hit the spot!
You may also like this DIY HAND PAINTED WATERMELON FLOWER POT:
You can sign-up to get an email update each day. You can also connect with us on: