I'm excited to show you my Palm Tree Pedicure – my toes are ready for summer – yay!!!
There hasn't been an official survey or anything, but I think we can all agree that summer is most people's favourite season.
I had been waiting in anticipation for some warm weather and last Thursday the forecast was for 32 degrees! PLUS 32 degrees celcius!
The day before this beautiful weather was forecasted for, I had a panic moment – my toes weren't painted!
I had to come up with a design and fast! I would have been ashamed to show my toes for the first time after a long winter in socks without making them look presentable again. I happened to also have a big history test I was studying for that evening, so while flipping through notes and memorizing facts about Peter the Great of Russia and the Reformation, I did some pretty great multitasking and painted my toes. I was rather proud of myself, and I even ended up getting a really great mark on my test the next day! It was a rather productive evening.
PALM TREE PEDICURE
Palm trees are one of my favourite designs to paint in the summer and this design is one of the quicker ones to whip up. The background is made up of just three simple colours over top of a white base and then the palm tree is over top.
I love that summer is here, and am excited to get started on more summer themed nail art! This Palm Tree Pedicure was a great way to start the season!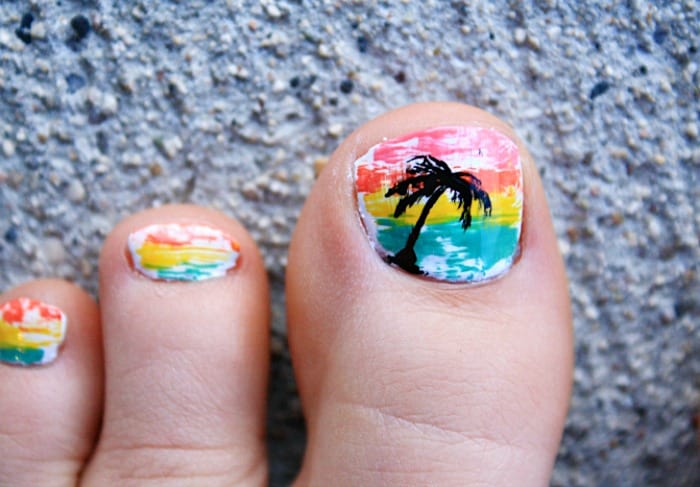 You may also like this PALM TREE MANICURE: