This week's activity is for those children who are just about to start reading, emergent readers. It's called the Object Box One. All of the objects are consonant-vowel-consonant words, and can be sounded out. Words with blends or double vowels will be in Object Boxes 2 & 3. Many of the object shown below are parts to toys or nik naks from my house. In addition to objects, you'll need a pencil and tiny papers. This is an easy activity to throw together without spending a fortune on Montessori materials, I bet some things can be found in any home.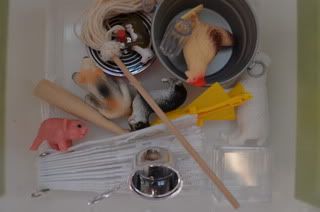 The idea is for adult and child (or child and child) to pass little written notes back and forth, reading them and matching with the object. At first, it's helpful for the adult to be the writer, later I invite an older child. I fold the papers up teeny tiny to add more suspense. The child opens it and sounds out the word…."fan" Does it say fan? Yes! "box" Does it say box? Yes!
I love this activity for children who are just about to read since I find encourages new readers to choose more language work and try reading in books. It's a great message that written words have meaning. Plus, tiny hands are attracted to tiny things!
Jessie is a Primary Montessori Teacher and Mom to twin three year olds and a five year old. Jessie has a Montessori blog at The Education Of Ours, and can be found on Twitter. See her other Mommy Moment posts here.