Well, Christmas is over and we have MANY beautiful cards kept in a box. What to do with those cards?
Reuse them for lacing cards! Your children will love looking at the photographs of their families, friends, and winter images while exercising fine motor skills.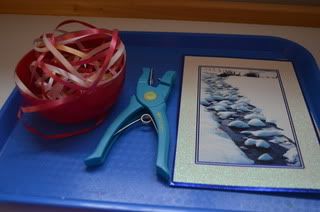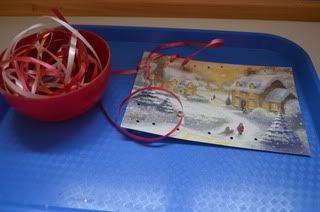 This fun can extend throughout the year. Collect interesting photographs or post cards from far away places to make lacing cards. Lacing in Montessori is considered a Practical Life activity, used for the beginning skills used in sewing. Lacing cards sold commercially can be pricey, but anyone can create cards with the child's interest in mind.
Allow the child to use a hole puncher or scrap booking puncher to create holes all around the card. If this task it too hard for the youngest children, prepare the holes ahead of time. We used some gift wrap ribbon left over from gifts. They adore their new craft, and have begun stringing them together as a display. We are delighted to get a little more use out of all of these lovely cards!
Jessie is a Primary Montessori Teacher and Mom to twin three year olds and a five year old. Jessie has a Montessori blog at The Education of Ours, and can be found on Twitter.