The Moveable Alphabet is a Montessori Material used for inventive spelling, without having to form the letters on paper. Words can be dictated by a teacher, a classmate, or by objects. A child's first experience with the movable alphabet will be isolating a word's sounds, not as a spelling activity for accuracy. I consider the Moveable Alphabet to be a tool of passage between lessons with Sandpaper Letters for initial sound work and reading words. The child learns through working with the Moveable Alphabet that letters have a certain orientation and that words are composed of sounds. First work with the Moveable Alphabet is done with short vowel words such as fan, dog, cow. Later, the child is introduced to the new sound phonograms and letter combinations make.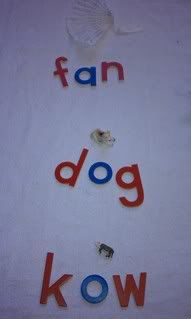 At the first lesson in the consonant-vowel-consonant level of using this material, it is important to observe the letters the child chooses, and not correct mistakes. Make a mental note of errors, and review them later with sandpaper letters and try that word another time. The goal is that the child will enjoy this work, and keep confidence in language high. You can see in this photo, my daughter spelled cow with a k. Both c and k make that sound, later I will do a c vs. k sorting work with her. She is just starting to read, and is very interested in the movable alphabet. Actually, she prefers it being called the musical alphabet because "it makes so many sounds".
Written by Jessie Beerman, M. Ed, from The Education of Ours,
a blog about Montessori Education for the home.
Jessie is a proud mom to three daughters, and a Montessori Teacher
who dabbles in writing, art, and yoga.