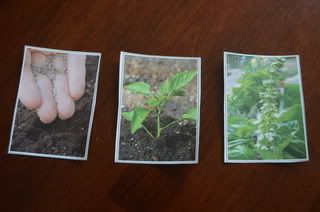 One of the most amazing things about Montessori is that the adult prepares the space and the materials specifically for that group of children. My favorite thing about home is designing materials to suit my girls. They are very into their own baby photos, so I created some sequence cards for them with a holiday theme. They are also into botany, so I made the cards linked at the end of this post.
Sequence cards are a great way to strengthen their ability to use language as an effective tool for communication.
They serve as an exercise for later writing and reading (the story goes from left to right), showing the child how to think through a series from beginning to end.
Presentation:
Lay out all cards in random order
Decide which in the cards would come first
Place it to the far left
Chose the next card, place it to the right of the first card
Continue until all cards are in sequence
It should tell a story, admire and talk about what happened in each card
A great way to make sequence cards easily is to cut up a 'how to draw' book and make cards from those images. Even older children can benefit from sequence cards as a journal prompt. You can also download free sequence cards from the link below:
http://www.montessoriforeveryone.com/assets/PDF/Story_Sequence_Cards.pdf
Jessie is a Primary Montessori Teacher and Mom to twin three year olds and a five year old. Jessie has a Montessori blog at The Education of Ours, and can be found on Twitter, @educationofours.
You can sign-up to get an email update each day. You can also connect with us on: