Happy Monday!
Are you all back to school? Many of my readers are from the US and it is my understanding that school starts a lot earlier for them. We start back the second week of September!
(Be sure to Link-up your homeschool/preschool/Montessori posts at the bottom of this post and check to see what others are up too!)
Anyway, as promised in my post last week I told you that I would show you the Brown Bear work that both of my girls love!
Little Belle (24 months) LOVES to match the felt animals to the correct pages in the book. I'm not sure if it is the matching concept or the animals that she loves more! Remember the matching animals to their stripes work I posted about a while back. Belle loves to do that work now too!
Snow White (4.5 yrs old) loves to use this as a work. She sometimes looks through the book placing the animals on the mat as she "tells" the story. Other times she places all the felt animals in order and then uses the book to self check her work. She retells the story as she does it! This is a great work for memory and I feel that the retelling of the story helps her confidence level!


Right now we have this on a tray as a work, but the other books are in the library display. She has already asked me when we can make felt sets for all the Eric Carle Books…we'll see about that 🙂
Have you done a post about preschool, homeschool or Montessori learning this week? I would Love for you to link-up so others can see what you've been up too! What a great way to support and encourage one another!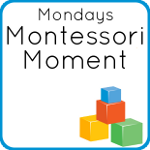 (Please be sure to display our Mondays Montessori Moment Button in your post or sidebar!)
Please put the name of the post in the link title and link directly to that post, not your blog home!
I also link-up my Montessori Moment each week to the link-up at One Hook Wonder.



Because of YOU we are considered a Top Mommy Blog. Just click here to vote for us. Clicking on the brown screen that pops up is all you have to do!
You've also helped us be ranked #2 on Picket Fence Blogs! You can click here to vote for us & You can vote once a day! Thank-You!
We have some GREAT giveaways going on too! Be sure to check them out using the link or in the top sidebar!