I know I shared before that I feel very blessed to have a wonderful "classroom" space in our home. It really is a nice space and the children are content when working.
I do my best to introduce lessons as I observe they are needed and I know in my heart that I am doing a good job.
Sometimes when I am observing I think about what it would be like for my girls to be in a regular Montessori classroom with many other children & different teachers/guides. Do any of you ever think about this?
This summer we had the opportunity to visit our dear friends in Florida! Colleen from Sunrise Learning Lab is also a trained Montessori teacher with a "classroom" in her home. I was so thrilled that my little girls had the opportunity to see another classroom & be introduced to some new "works" by my dear friend.
As I observed my girls I almost had tears in my eyes – I was proud that they used the skills they had learned at home (such as getting out a mat, respecting the materials etc) but I also loved watching how they interacted and worked with Mrs. Colleen! I loved that they had the opportunity to try out many new works that we do not have in our home!
As I am gearing up for another year, I wonder how I can improve from the past year.
What tips do you all have?

What works and does not work for you?

For those of you who do Montessori or homeschool, do you ever have these same feelings of wondering what it would be like to be with another family or in a school environment?
I would love to hear your thoughts!
(Next week I will be sure to post about our Brown bear, Brown bear work – the girls just LOVE it!)
Feel free to Link up your Montessori Moment from the week!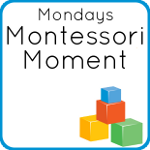 (Please be sure to display our Mondays Montessori Moment Button in your post or sidebar!)
Please put the name of the post in the link title and link directly to that post, not your blog home!
I also link-up my Montessori Moment each week to the link-up at One Hook Wonder.



Because of YOU we are considered a Top Mommy Blog. Just click here to vote for us. Clicking on the brown screen that pops up is all you have to do! You've also helped us be ranked #2 on Picket Fence Blogs! You can click here to vote for us & You can vote once a day! Thank-You!