We are on holidays – last one before our dear Snow White starts maternelle (kindergarten).
I just had to share with you what the best practical life activities are in our home…

It is so special to me that my grandmother is still around to be such a great role model to her great-granddaughters!
What is something special to you? I would love you to share!

Feel free to Link up your Montessori Moment from the week!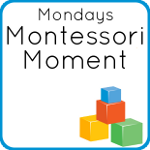 (Please be sure to display our Mondays Montessori Moment Button in your post or sidebar!)

Please put the name of the post in the link title and link directly to that post, not your blog home!
I also link-up my Montessori Moment each week to the link-up at One Hook Wonder.
We have 3 great giveaways all ending today! Be sure to check them out in the sidebar!

Because of YOU we are considered a Top Mommy Blog. Just click here to vote for us. Clicking on the brown screen that pops up is all you have to do!
You've also helped us be ranked #2 on Picket Fence Blogs! You can click here to vote for us & You can vote once a day! Thank-You!