Summer is on its way! Here is a summer scone recipe to get you even more excited for the warm weather that is on its way. One of the best parts of these raspberry almond scones is that they are so simple to make.
It is practically just tossing all your ingredients together in a bowl and baking them. No long procedure time, long rising time, long baking time, or long cooling time.
In less than an hour, you can have a plate of beautiful and delicious fruit scones sitting in front of you.
RASPBERRY ALMOND SCONES
This page may contain affiliate links for your shopping convenience. The links help support the blog as we may earn a small commission at no extra cost to you, our readers.
These raspberry scones with almonds are packed with flavor and the raspberries give them a beautiful pop of color. Since these berries are so soft though, I recommend placing them in the freezer for 15 minutes, while you mix your other ingredients, before you add them in. It helps keep them from being completely integrated into the dough.
The dough is a little sticky so the best way to get it into a nice circle on your parchment lined pan, is to take the dough right out of the bowl and onto your pan.
Then press it out into a rough circle with your hands. The raspberries are part of what makes this dough so moist and because of that, your scones will turn out beautifully.
Bake them until they have a nice golden brown color to them, then they are ready to be taken out of the oven.
Don't forget to top of your scones with that yummy almond glaze and get ready to taste a delicious summer scone.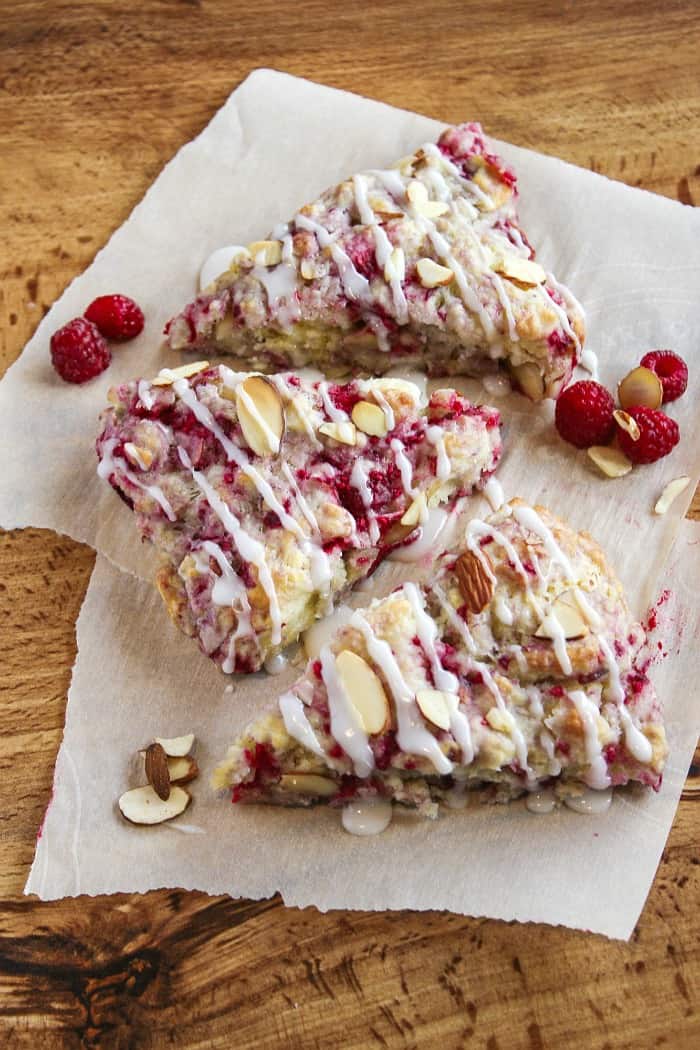 Ingredients
SCONES
2 cups all-purpose flour
2 tablespoons granulated sugar
Pinch of salt
1 tablespoon baking powder
⅓ cup cold butter
1/4 teaspoon almond extract
¾ cup milk
1/3 cup sliced almonds (plus a little for the top)
1 cup raspberries (set in freezer for 15 minutes before)
GLAZE
½ cup icing sugar
1 tbs milk
¼ tsp almond extract
Instructions
Pre-heat the oven to 400℉ and line a baking pan with parchment paper.

Whisk together the flour, sugar, salt and baking powder in a large bowl.

Cut the butter into smaller cubes and then cut it into the flour mixture with a fork or a pastry cutter.

Add in the milk and almond extract and stir together. The dough will be a little sticky - but that is okay. (Your scone is not going to be dry and crumbly!)

Gently fold in the almond slices. Take the raspberries out of the freezer and carefully fold them in last. They will smear a little into the dough, but that is okay. Just don't over mix so your entire dough is pink.

Transfer your dough onto the parchment lined pan and spread it out into a rough circle with your hands. Sprinkle with a few extra almond slices. Bake them for 15-18 minutes or until they have a golden color to them. Take them out and let them cool.

While your scones are cooling mix together the icing sugar, milk and almond extract in the little bowl. Add more milk if you want a thinner consistency. Cut your scones into triangles and drizzle the glaze over the scones. Enjoy!
You may also like these HOMEMADE BLUEBERRY MUFFINS:
Sign-up to get an email update each day. Also connect with us on: