Yay for Monday's Montessori Moment. Each week I feature 1 of the works that have been selected by a child from the previous week. It is hard to select only 1 work, but this is my twist on the way I do my Montessori posts. This also makes it easier for me to look back for a specific activity. If you have a suggestion for a work you would like highlighted, let me know and if I have pictures of the children working on it, I will try to post about that work soon.
Our 4 year old really enjoys working with letters. You can see her working with Pink Material here or Sandpaper letters here.
I found this work at a garage sale last summer but have not put it out yet as it is a bit difficult.
There are these big picture cards and letter tiles.
Each letter has a different pattern on the back that only fits into the proper letter space on this board.
When the picture card is placed on the board only the correct letter fits in each space.


I like the work. I love that the letters are lowercase, I just wish that the words were of similar difficulty on each card rather than by theme. Snow White loved putting the letters in alphabetical order before she started. She easily did the word "hat" by herself, as well as the beginning and ending sounds of the other words, but asked for my help with the rest.
I like that this work is self checking too, I just wonder if I should put it away for a bit longer.
I love our Insta-Learn Language Boards, the children work with them almost daily, but I also like to introduce new activities and work.
What do you think? Any suggestions?
Now it is time for you to link-up!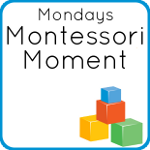 (Please be sure to display our Mondays Montessori Moment Button in your post or sidebar!)
Please put the name of the post in the link title and link directly to that post, not your blog home!
We are in the process of putting together an online auction to help Luke. If you have anything you would like to donate please let me know ASAP. We have raised 1/6th of our goal in cash donations. You can read more about Luke here.
Because of YOU we are considered a Top Mommy Blog. Just click here to vote for us. Clicking on the brown screen that pops up is all you have to do! You can vote once a day! Thank-You!