Wow, August already! How are you all doing? Have you enjoyed your summer so far? I am amazed at how quickly the time has flown by.
As I am sitting here getting ready to post about our Monday's Montessori Moment, I am overcome with emotions.
I just had to go back and read this post about the foundation of a child-friendly home. The part about "do as I do, not as I say" really had me reflecting on myself and how it affects my girls!

Am I the only mom who feels as though my little girls are growing up at lightening speeds? Maybe it is because:
our oldest daughter is starting Kindergarten this fall

I will be starting the Montessori lessons with our youngest who just turned 2 (wasn't she just born yesterday?…sniff, sniff)

I just started my new work from home job (part-time)

I will be reaching a new milestone this month – turning the big 30!
Who knows what it really is, but it has given me time to reflect on my life. I am so blessed and have so much to be truly thankful for! I just want to soak up every single moment and treasure it forever!
Ok, enough rambling I suppose! How about I just share some pictures from our week! Look at all the FUN we've been up too!
Baking Yummy Cookies & Blueberry Pie!
Swimming while mommy & daddy put up our feet and relaxed!
Working with the new dressing dolls.
And the girls especially loved this practical life work…
What about you? What kept you busy this week?
Feel free to Link up your Montessori Moment and leave a comment too – I love comments, don't you!
Please tell others about this link-up too, I'd love for people to see what you've all been up to too!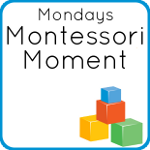 (Please be sure to display our Mondays Montessori Moment Button in your post or sidebar!)
I also link up to The Montessori Monday post on One Hook Wonder.

Please put the name of the post in the link title and link directly to that post, not your blog home!



Because of YOU we are considered a Top Mommy Blog. Just click here to vote for us. Clicking on the brown screen that pops up is all you have to do! You've also helped us be ranked #2 on Picket Fence Blogs! You can click here to vote for us & You can vote once a day! Thank-You!