Mondays Montessori Moment is a practical life activity that the children have enjoyed working with.
Water transfer with a sponge…
I put a bit of warm water in one bowl with a sponge and the children soak up the sponge and the squeeze out the water into the other container.
This activity is introduced after the child has worked with one bowl of water and squeezing out sponges. (you can see an example of this preliminary activity HERE)
Squeezing water is an activity that prepares a child for other life skills such as wringing out a dish cloth and washing down a table.
Do you have a Montessori Moment you would like to share? Please grab the button for your blog…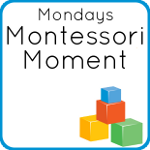 And LINK up your post HERE! Please link up to the actual post and not the blog home!