THEY CAME. THEY THAWED. THEY CONQUERED.
The newest DVD from VeggieTales is called The League of Incredible Vegetables and teaches kids a lesson in handling fear.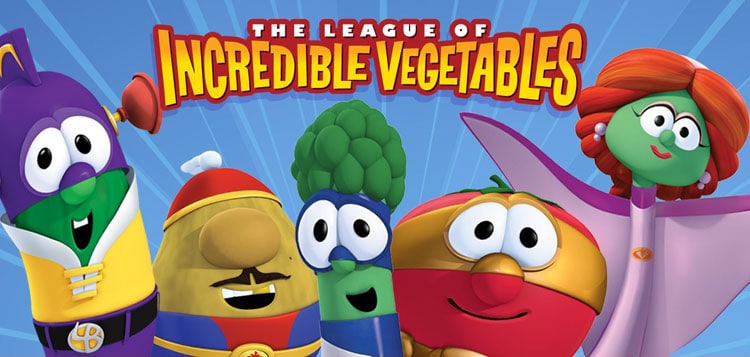 "It was a bright and sunny day in Bumblyburg…until Dr. Flurry came to town. This chillin' villain wants to freeze the entire city…in fear! This job is too big for resident hero LarryBoy to handle alone, so he turns to The League of Incredible Vegetables for help! Thingamabob, S-Cape, Vogue and Ricochet are up for the task, but find that their own fears could land them in Dr. Flurry's deep freeze! Will they remember to turn to the One who is bigger than all their fears before the whole town ends up on ice?"
For my son, everything nowadays centers around super heroes. Whether it is an actual super hero that you read about or one that he has made up, he is into saving the world! He was super excited to see the new VeggieTales DVD and has watched it several times over the last little while.
I thought the story line was cute and appropriate. Fears can trip kids (and adults too) and everyone needs to learn how to deal with them. I loved the fact that Junior Asparagus (who plays Ricochet) learns that it's not the super hero suit that gives you courage and strength, but where you place your trust that makes all the difference.
With a new theme song and a music video from the Newsboys, this DVD is perfect for child and parent alike! And of course what would a VeggieTales DVD be without the ever funny Silly Song. This time around we hear a song about a Supper Hero.
GIVEAWAY MOMENT:
1 lucky US Mommy Moment reader will WIN a copy of the new VeggieTales: The League of Incredible Vegetables.
**Open to US Residents ONLY**
Please be patient – Rafflecopter (the entry form) may take a moment to load.
**Click to see a 50 second tutorial on how to enter blog giveaways**