Thanks for stopping by to see Monday's Montessori Moment – where every Monday we post about some of our Montessori Inspired work from the previous week.
(a sneak peak photo from the video)
With it being summer and us not having regular time in the classroom I sometimes wonder if I will have something to share with all of you. I really should not worry because my 4 year old is always doing practical life activities or making up work of her own.
Here are a few pictures of her helping her daddy make supper – her job was to peel the carrots (She was such a big helper!)
Then one afternoon she was in the washroom longer than usual, I want in to check on her and her she was doing her own made up activity. I giggled because I think it is so neat that she likes to come up with her own work! Then I asked her if I could take a little video to show all of you – she said "Of course you can mommy, maybe another little kid would like to do this work too" – So here is her work!
Feel free to Link up your Montessori Moment!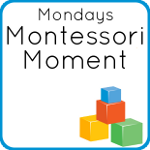 (Please be sure to display our Mondays Montessori Moment Button in your post or sidebar!)
Please put the name of the post in the link title and link directly to that post, not your blog home!



Because of YOU we are considered a Top Mommy Blog. Just click here to vote for us. Clicking on the brown screen that pops up is all you have to do! You've also helped us be ranked #2 on Picket Fence Blogs! You can click here to vote for us http://ow.ly/2ce4U You can vote once a day! Thank-You!