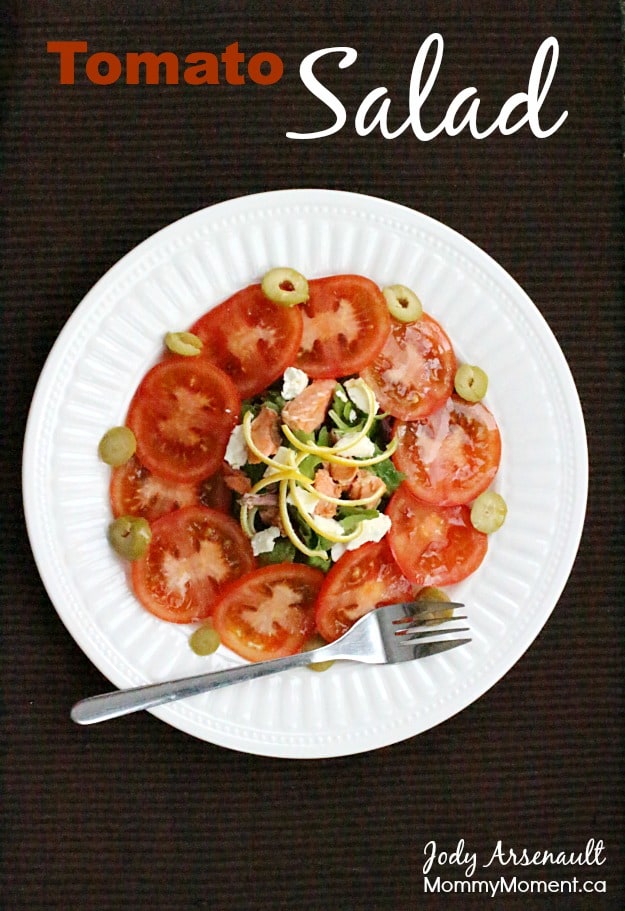 Today I am going to share a Tomato Salad recipe with you.
Be sure to scroll to the bottom to read the "Jody Says" and "Trev Says" updates on how my husband and I are doing on our healthy living journey.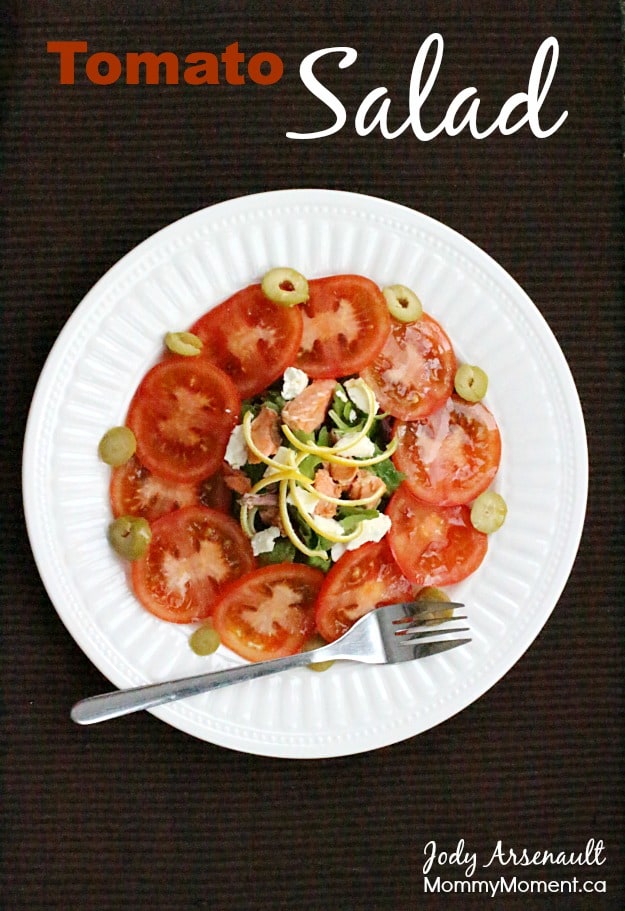 Tomato Salad
This tomato salad is perfect for those who like a salty taste with a citrus twist.
Ingredients
2 Roma tomatoes
1 cup salad greens
2 large green or black Italian olives
2 Tbsp crumbled feta cheese
Lemon Rind from 1/4 of a lemon
drizzle of fig balsamic vinegar
drizzle of olive oil
salmon pieces (optional)
Instructions
Put greens in the middle of the plate.
Place the tomato slices and olive slices around the greens.
Crumble feta cheese (and salmon) on top and drizzle with oil and vinegar.
Finish off with thin slices of lemon rind.
While out of town for work my husband enjoyed a Tomato salad for lunch, it inspired him to come up with his own version. The fig balsamic, lemon rind and olives from Italy gave this salad the perfect combination of flavors.
You can check out Instagram to follow along with what we eat daily. Here were some favorites this week.
This is a favorite and simple snack enjoyed by our whole family. Our 8 year old makes it when she gets home from school everyday.
I am so happy that our daughters are adjusting really well to our healthy living. Here is one of their school lunches.
Salmon on this Kale soaked salad was so delicious!
I love strawberries in my salad – this is a favorite that our family enjoys numerous times a week.
A favorite breakfast is steel cut oats with various toppings. These blackberries were the perfect touch.
Now for our #TeamTrevJody updates!!
Jody Says: A really honest update.

This week started off great and then I started having cravings and became emotional. I was very proud of myself for not giving in and I realized that certain times of the month for me as a woman will likely always be harder than others.
I also started exercising a little bit this week. I have started jumping rope a little bit each day. With blizzard conditions and -40 temps, skipping is something I can do in the house.
I can fit into a pair of jeans that I could not fit into when I started this journey, so that was exciting for me.
Trev Says: What a week it has been. So far I have noticed the following things.
My pants are fitting better. In fact I need a belt to keep my jeans up.
I am still sleeping like a rock. In fact Jody has noticed that I do not snore anymore which apparently was a problem for her in the past 😉
I am having less cravings for sugary sweet things
So all in all I think things are going ok. However this week I had the ultimate test. I had to travel for work and as we all know that airport travel is not always the easiest. Thanks to a great bar and grill I discovered a fantastic salad that not only filled me up but tasted amazing. Thanks http://www.thelancaster.ca/ for introducing me to a tomato salad, it inspired me to create the one above.
—————————————————————————————————————-
You can sign-up to get an email update each day, follow us on Twitter, Facebook, Pinterest, Instagram, Google+, Blog Lovin' and NEW Sulia!