Salt dough projects are so fun and easy to make. Today I am going to share how to make these adorable thumbprint salt dough magnets. They make a truly unique gift with that personal touch. If you do not have enough time to make the salt dough handprint, these thumbprint salt dough magnets take half the time, yet still have that sentimental touch.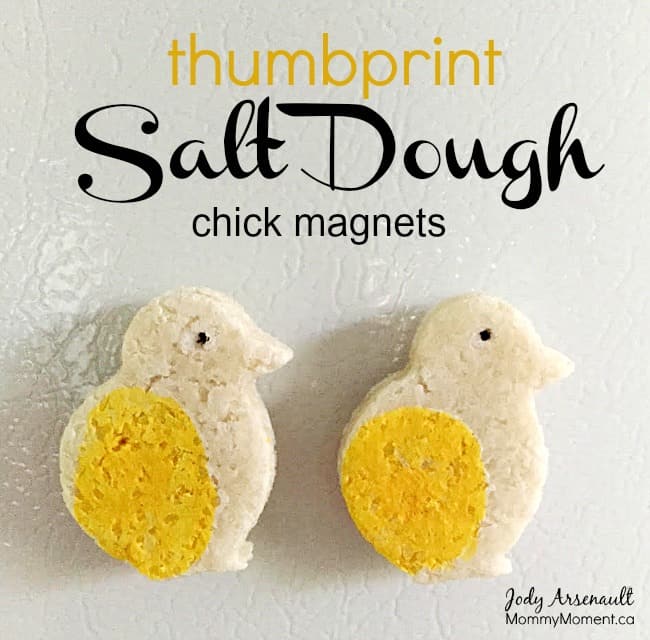 Ok, I admit it, I could not help myself – chick magnets…how cute are they?!
The possibilities are endless when it comes to making thumbprint salt dough creations. These turtles are pretty darling too.
To make the salt dough you will need:
1/2 cup flour
1/2 cup salt
1/4 cup water
Mix together. Roll out and use cookie cutters to make your creations. For these salt dough thumbprint magnets you will need to use cookie cutters that are 2-3 times the size of your thumb. Place the salt dough cut-outs on a pan and bake at 200 degrees for 60-90 minutes. Let cool completely.
Then dip the child's thumb in paint and press on the salt dough to co-ordinate. Yellow for a chicks wing, green for a turtles shell etc. Use a permanent marker to make a dot for the eye. Let dry. Once dry, flip over and hot glue a magnet to the back.
I hope you enjoy making these thumbprint salt dough magnets with the children in your life. Fun, easy, personalized projects are always a favorite in our home.
If you enjoyed this post be sure to check out our boards on Pinterest.
You may also like these Salt Dough Crafts
You can sign-up to get an email update each day. You can also connect with us on: