This week's activity is a work I call the Archimedes Test, mainly to sneak in a little knowledge about the mathematician who discovered a perfect way to measure volume. Archimedes overflowed very full bathtub when he got in by the sheer volume of his body….always a good laugh with the little ones. You can call it anything you'd like, Volume Grading or Volume Displacement works just fine.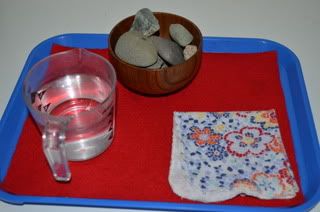 Materials:
Plastic (there'll be rocks!) 2 cup or 400ml measuring cup with clear lines.
1 cup or 200ml water, feel free to add food coloring to make the measurement clear.
Plenty of rocks small enough to fit into the measuring cup. You may need to go on a Nature Walk to collect!
Towel or absorbent sponge on a tray or water-safe surface.
Curious Child, old enough not to mouth the rocks.
As with many Montessori materials or scientific experiments, you'll want to try this one out on your own to make sure it works well. First, get the water measured and the rocks available. Instruct the child on how to gently place the rocks inside the water. Splashing disturbs the measurement. One at a time, see how high a rock makes the water rise. Record the change on paper with a chart or by simply writing the numbers. Older children can do the math(perfect for Golden Beads): The water plus a rock, minus the water equals the volume of the rocks. When all the rocks have been tested, the child can arrange the rocks by their volume.
What else can be put in the measuring cup? How can we measure bigger items?
Enjoy the experiment, little scientists!
Jessie is a Primary Montessori Teacher and Mom to twin three year olds and a four year old. Jessie has a Montessori blog at The Education Of Ours, and can be found on Twitter.