For Mondays Montessori Moment I'm going to tell you about a language work the children enjoy.
Using sandpaper letters and objects together helps the child match the beginning sound of the object to the corresponding sandpaper letter.
I usually put objects with 3-5 beginning sounds in a small basket and the corresponding sandpaper letters on a tray. The child chooses one sandpaper letter, traces it and then finds the objects from the basket and places them above the letter.
The children tend to choose this work often. The small objects are quite appealing! You can see more fun language activities HERE
Do you enjoy our blog? We would love for you to vote for us on Top Mommy Blogs. All you have to do is click HERE. We really appreciate it!
Do you have a LANGUAGE work that you would like to LINK-UP?
All I ask is that you grab our button for your blog and have a link to Mommy Moment in your post!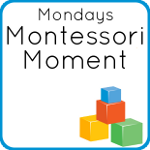 Please put the
name of the post first
when you link up and
have the URL linked to the post not the blog home
.
Here is an example:
Wake up Working on Mommy Moment
email address here (it will not be shown)
https://mommymoment.ca/2010/02/wake-up-working.html