Peace…these are the items in our peace area right now. The bell is used with the book for the silence activity. The shells create a nice calm and quiet feeling. The children love to hold them and practice being gentle and peaceful!
Before I continue I just have to let you all know that we have something VERY exciting that will be happening here on Monday's Montessori Moment in the next few weeks. Please stay tuned as you WONT want to miss it! If you have anything to do with children, education, homeschool or Montessori you will LOVE this!
Dear hubby had an old piece if Styrofoam lying around. I quickly picked it up and made this activity for little Belle
Since she seemed to enjoy this activity, I pulled another work off the shelf.
Just look at that nice pincer grip practice! Good work little Belle!
Now you can link up your Montessori Moment.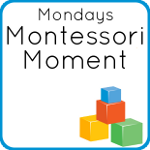 (Please be sure to display our Mondays Montessori Moment Button in your post or sidebar!)
Please put the name of the post in the link title and link directly to that post, not your blog home!
I have attached a screen shot image here of what you should be seeing above to link up your posts. Some people have had trouble and do not see this. If you are having trouble, please e-mail me with the following information at mommymomentblog @ gmail . com (with no spaces) and I will add it to the link-up!
We hope you enjoy our blog and we'd love if you'll take a second to click here to vote for us on Top Mommy Blogs! You can vote for us once everyday! Thank-You!