One of the most important things for me when back-to-school shopping is to find a good pair of shoes for my daughter. My daughter is very tall and has thin long feet. I want her to have a pair of shoes that she likes, that fit her foot well and are comfortable, but I don't want to break the bank. Her feet are growing so fast that I like to find good shoes for a good price.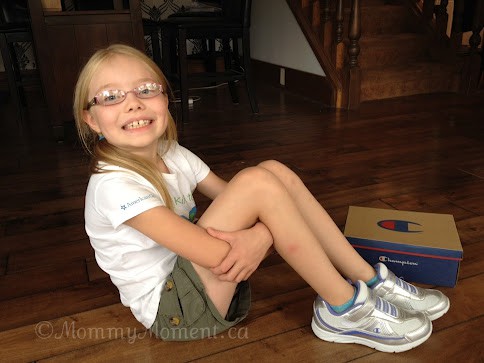 Payless has a "Mom's Advantage" program. This program is awesome because it really means hassle-free shoe shopping.
Great brands/styles like Champion and SmartFit offered an affordable price, starting at just $12 a pair.
Kids feet are measured with a Brannock device for an accurate, healthy fit.
Many styles come in extended sizing – as high as youth size 6 (equivalent to women's size 8 and men's size 6). That's important because lots of kids have adult-size feet, but moms don't want to pay adult pricing.
My daughter got a pair of Girls' Dancy Runners for back-to-school. She loves that that they have purple on them and that the elastic on the top sparkles.
Although my daughter knows how to tie laces, I love that these have a velcro closure. She tends to take her time when getting ready, so anything that helps speed up the process is a bonus for me!
Giveaway Moment:
Payless Shoes is offering one Canadian Mommy Moment reader a pair of shoes just in time for Back-To-School.