Isn't this pink popsicle craft with sprinkles the cutest? Summer themed crafts are fun for kids to to do once the weather gets warm. This paper plate popsicle craft aka TWIN POPS is a simple summer time craft that your kids are sure to love. This craft is even simple enough for kids to do mostly on their own.
PAPER PLATE POPSICLE CRAFT
MATERIALS NEEDED:
Paper plate
Marker or pencil
Craft sticks
Elmer's glue/hot glue gun
Pink tissue paper squares
Sprinkles
DIRECTIONS:
#1) Draw a twin pops popsicle shape onto the edge of your paper plate like shown and cut out with scissors.
#2) Glue all over your twin pop and rub around with your fingertip.
#3) Stick your tissue paper squares onto the glue on the twin pops and cut off any excess paper that comes over the sides.
#4) Hot glue your 2 craft sticks onto the back of your twin popsicles. (You will most likely want to help the children with this part).
#5) Now dab a little more glue onto the top of your twin pops with a few drizzles of glue beneath as pictured below.
#6) Hold your twin popsicles over a garbage can and top off with sprinkles. Be sure to let the craft dry completely before you put it on display. These would be so cute on a summer themed bulletin board too. Kids could pick their favorite popsicle flavor and make this craft in the matching color. How fun!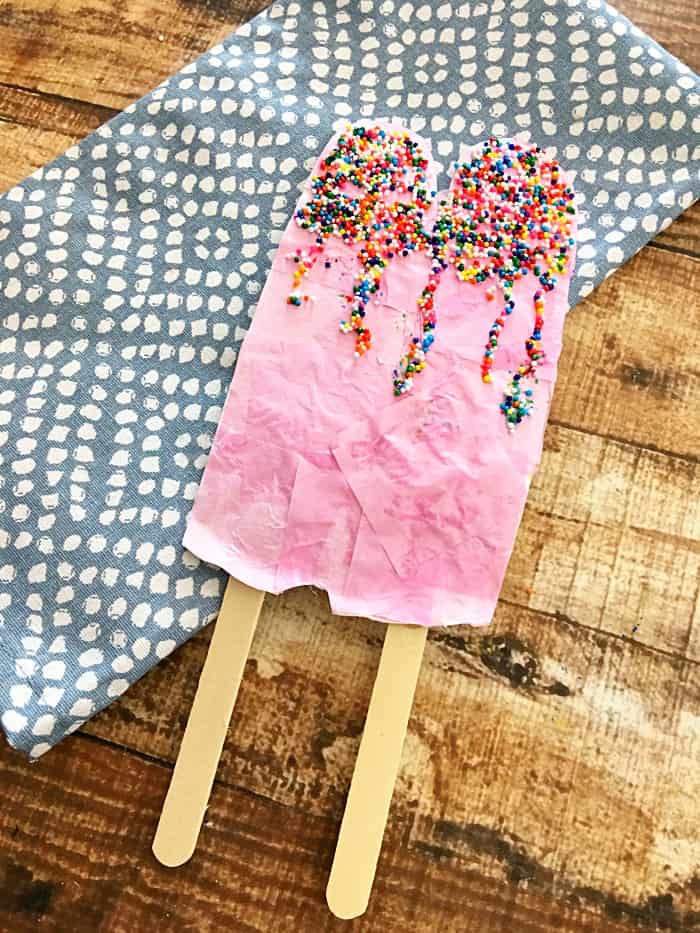 Your twin pops will look adorable but don't let the kids eat them! Maybe they can have a real twin pops popsicle when they are done craft time.
We hope you love this fun twin pops paper plate popsicle craft for summer! Just looking at it makes me want to enjoy a yummy treat on a hot summer day.
You may also like affordable and fun ROCK TIC TAC TOE GAME:
You can sign-up to get an email update each day. You can also connect with us on: