This week is back-to-school for many children. I have been excited to start packing the girls Lovable Lunches again this year.
One thing I want to do more of this year is pack more homemade items in my girls lunch boxes. Today I made nut-free bars that my girls love, so this will be one of our lunch staples for the year.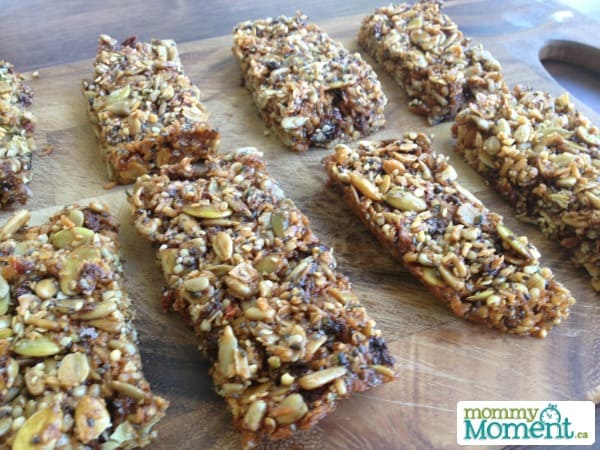 Yield:

2 dozen
Nut-Free Bars
These nut-free bars pack in protein and are great for school lunches!
Ingredients
1 cup raw sunflower seeds
1 cup raw pumpkin seeds
1/4 cup hemp hearts
1/4 cup chia seeds
1/4 cup goji berries (soaked)
1 cup unsweetened coconut
2 Tbsp coconut oil
1/2 cup honey
1 tsp vanilla extract
pinch of sea salt (I use Celtic)
(You can make this recipe using any seed combinations and if you do want to add nuts you can replace some of the seeds with nuts - you really can make this recipe your own. You can replace the goji berries with raisins or chocolate chips if you like too).
Instructions
Soak the goji berries in hot water for 3-5 minutes.
While they are soaking, line a 9x12 pan with parchment paper and set aside.
In a mixing bowl, mix together coconut, seeds and hemp hearts and set aside.
In a small pot, melt the coconut oil and honey. Once melted stir in the vanilla, sea salt and strained goji berries.
Pour the honey mixture over the seed mixture. Stir till well blended.
Push mixture into the pan and bake at 300 degrees for half an hour. Remove from oven and let cool completely or they will fall apart. Once it is completely cool you can cut them into bars. I like to place mine in the fridge after they are cool for about 15 minutes and then I use a pizza cutter to cut them. I keep them in the freezer and take them out each morning to put in my girls lunches. They would keep in a sealed container for 7-10 days.
What are some of your favorite homemade recipes to pack in your kids lunches for school?
You may also like this Rhubarb Platz Recipe.
You can sign-up to get an email update each day. You can also connect with us on: