The Montessori Number Roll is one of my favorite Montessori activities for Linear Counting. Both my classroom children and my oldest daughter go nuts for it. Our number rolls are so long they spread across the lawn! Number rolls are so attractive to children; to write out numbers, and have the opportunity to see them go so high.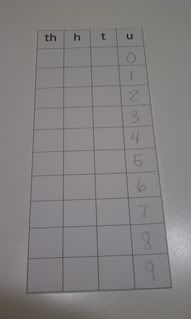 The child writes the numbers in order; keeping place value as units, tens, hundreds, thousands, etc. I enjoy using paper grids with the initials of the decimal order, available for free download here. When beginning, either instruct the child to begin units at 0 or cut off one row to begin at 1. The rest of the number roll will require all 10 rows.
Below is a photo of the Montessori Exchange Tray, which is helpful for children who get stuck with changing decades or exchanging for the next level. The child can simply lay out the quantity and add one unit. For example, for the number 1,246, the child would take out 1 thousand, 2 hundreds, 4 tens, and 6 units. Those are the exact numbers they right on the number roll. The strips can be taped together, or glued onto another paper and rolled up. Unrolling after a year of work is always a treat!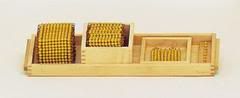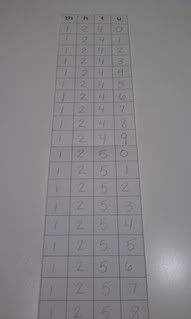 Written by Jessie Beerman, M. Ed, from The Education of Ours,
a blog about Montessori Education for the home.
Jessie is a proud mom to three daughters, and a Montessori Teacher
who dabbles in writing, art, and yoga.