I'm sick! The day we got back from my 30th Birthday holiday I came down with a sinus cold, now it has become a chest cold and I am coughing non stop.
I wanted to say Thank-you to each one of you who left a comment on my post last week about my grandma knitting with our daughter. It really is special to me!
Here are some random pics from this month that I do not think I have posted about yet…enjoy!


and sorting them by color
painting and mixing colors
doing the shape clock puzzle
printing words on the chalkboard
filling in the shapes on the boat.
We will be starting regular time in the classroom in 3 weeks. Hard to believe how quickly the summer has passed by. Hard also to believe my little girl will start kindergarten, oh how the tears will flow!
Feel free to Link up your Montessori Moment from the week!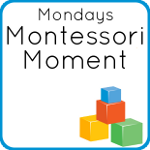 (Please be sure to display our Mondays Montessori Moment Button in your post or sidebar!)

Please put the name of the post in the link title and link directly to that post, not your blog home!
I also link-up my Montessori Moment each week to the link-up at One Hook Wonder.

Because of YOU we are considered a Top Mommy Blog. Just click here to vote for us. Clicking on the brown screen that pops up is all you have to do!
You've also helped us be ranked #2 on Picket Fence Blogs! You can click here to vote for us & You can vote once a day! Thank-You!