Our post for Monday's Montessori Moment!
Snow White often chooses to work with language or culture related materials. This week she surprised me by pulling work of the math shelf and working with it for long periods of time through the day.
Once she got passed number 10 she went back to her shelf and pulled out some of the golden bead material.
She worked up to #22. (The language board goes up to 25). She put her work away and then said that she was very thirsty…
So she poured herself a glass of water!
Now you can link up your Montessori Moment.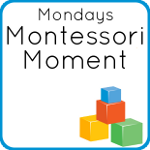 (Please be sure to display our Mondays Montessori Moment Button in your post or sidebar!)
Please put the name of the post in the link title and link directly to that post, not your blog home!
I have attached a screen shot image here of what you should be seeing above to link up your posts. Some people have had trouble and do not see this. If you are having trouble, please e-mail me with the following information at mommymomentblog @ gmail . com (with no spaces) and I will add it to the link-up!