Like most moms, I've spent my share of nights spent rocking my baby's to sleep.  Babies love the rocking motion that comforts them and help relax them.  The Lion King Cozy Coo Sway Seat from
KidsII Company
has many features that make it a popular choice for mom and baby!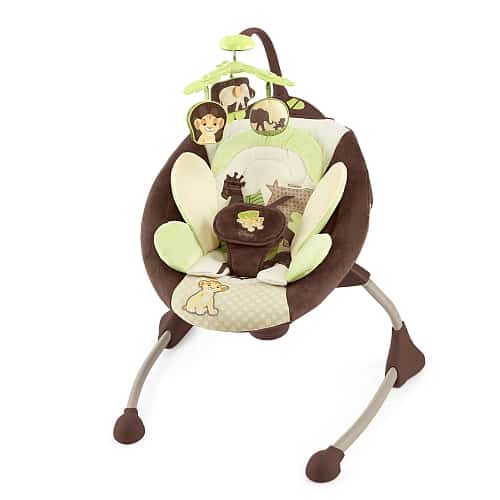 To start with, the Lion King Cozy Coo Sway Seat is designed to help baby feel cozy while the it rocks from side to side to mimic the rocking of a baby in their mothers arms. Another benefit of this rocking motion it can fit and be functional in compact spaces, making this swing very practical for small rooms due to it requiring 30% less space than full size swings.   There is also a timer on the swing that will automatically shut off in 30, 45 or 60 minutes.
Having a swing with many features can be very costly when it comes to batteries…especially 4 D batteries, so when I saw that this cozy coo sway seat had the option of having an AC adapter it made me very happy! No worry about trying to finding batteries at 3AM.
Like most babies, a gentle tune or melody can calm them down.   The Lion King Cozy Coo Sway Seat features 11 different melodies and nature sounds that can calm your child.  Everything from the sound of a babbling brook to a gentle song, are there to help your child relax.  That combined with the 3 adjustable relining positions, and you have a perfect recipe for a good nights sleep.
The other feature of this swing that caught my eye was the vibrating seat that could be switch on giving baby extra comfort.  When my oldest was born 7 years ago I had a baby swing and a vibrating baby seat. I love that this cozy coo sway seat features the vibrating so it eliminates the need for another baby product.
My Baby Girl loves the swing, she loves looking up at the mobile while drifting to sleep. She also loves the sounds it plays. Especially the 'waves/water' sound. Not only does she fall asleep in it, she also loves to sit propped up in it and watch what is going on around the house. As for mom, I like the fact that for a full size swing it is compact.

– Baby E's Mom
Mothers rejoice, a time for sleep is in sight.  If your baby loves to feel cozy and enjoys being rocked, this seat is for you. Cuddle time with baby is very important, however a break from time to time is important for mommy too.
The Lion King Cozy Coo Sway Seat is available from Babies R Us. Stay informed about the product on the Ingenuity Facebook page.
Giveaway Moment:
One Lucky Mommy Moment reader will win a Lion King Cozy Coo Sway Seat
Open to US & CANADA (excluding Quebec)
a Rafflecopter giveaway

"This review was made possible by
Double Duty Divas
and Mommy Moment. I was provided the featured product free of charge to facilitate my review, but all opinions are 100% mine."