This week, I decided to look through our children's books. We had to make space for new books. I had been collecting children's books before I was a Mom, and it's a bit much! Some had to go, while others got displayed for immediate reading. Here's the checklist I went with for what to keep. It may help next time you hit the library or a book store.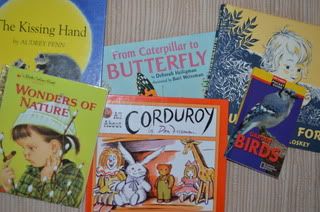 First, what doesn't matter: Good books don't need to be in perfect condition. It may be my inner librarian, but I didn't toss torn books: I put the kids to work in repairing them. After-all, I didn't rip them. As long as the structure of the book is good, it's fine with me. There's nothing quite as priceless as books shared over generations.
Look for a good story. Books that don't convey a story or message aren't so useful. Predictable stories provide some confidence to early readers, and the non-reader can feel ahead of the story.
Does it give information important to your audience? Non-fiction books that give information with both words and images are valuable to a curious mind. Be sure that science or history books are updated within the child's lifetime.
Is there sentimental value? Was it yours? Did you adore this book? A gift? Did you read it 409 times to your sweet baby? It stays.
Are the illustrations attractive/appropriate? Look for beauty, simplicity, and the ability to see the words clearly through the pictures and backgrounds.
Did it win a reputable award?
Does it jive with your family/school's beliefs or morals? If your family doesn't allow name calling, pre-read to be sure inappropriate social skills aren't modeled. Children are very easily influenced by special characters or books. Be on the look out for negative messages.
Is it age appropriate? Teen books are not right for preschool or school-aged chidlren. Save them, but don't have them out.
Enjoy the summer with a beautiful book!
Jessie is a Primary Montessori Teacher and Mom to twin three year olds and a four year old. Jessie has a Montessori blog at The Education Of Ours, and can be found on Twitter.