If you are looking for a fun, outdoor celebration, try a DIY HOT DOG BAR!
Canada is celebrating 150 years, and people all over the country are celebrating with parties and get-togethers.
Birthday parties are all about friends and family, so what better way to celebrate Canada's 150th birthday than with a fun and creative Hot Dog Bar for kids?
With a BBQ hot dog bar, everyone can customize their hot dog and top it with the ingredients they love.
DIY KIDS HOT DOG BAR
Making a DIY Hot Dog Bar for Kids is easy and fun!
We used Dempster's softest ever hot dog buns which were a hit!
Dempster's hot dog buns contain no artificial flavors or colors, so that makes mom feel good.
Here are some topping ideas for a kids hot dog bar:
ketchup
mustard
relish
mayo
shredded cheese
pickles
crushed nacho chips
Of course, every BBQ isn't complete without lemonade!
Our kids love spending time together as a family out on the deck under the gazebo and in the pool.
A hot dog bar may sound simple to us adults, but the kids think it's an adventure to create their hot dog with their favorite toppings.
Your children will love creating their #breadventure this Canada Day with a DIY HOT DOG BAR – and it's always fun when dad throws you into the pool!
We envision many more evenings of eating out on the deck, enjoying the sunsets as a family and what better way to celebrate Canada's 150th birthday than with another hot dog bar & pool party!
How are you going to be celebrating Canada's 150th? Have you ever made your hot dog bar?
Follow along on social media #breadventure #Dempsterscelebrates150.
Enjoy this Dempster's COUPON that you can use when you pick up your ingredients for your next #breadventure.
GIVEAWAY MOMENT:
One lucky CANADIAN Mommy Moment reader will WIN an inflatable couch to enjoy this summer! You can use this couch anywhere because it doesn't require a pump.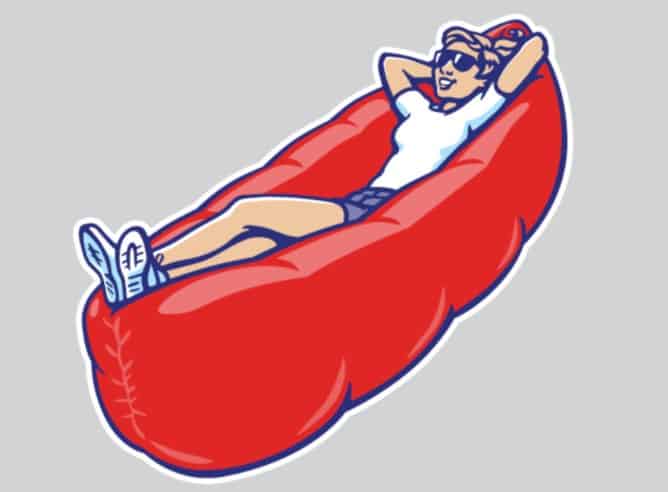 To enter, leave a blog post comment telling us what you would put in your #breadventure hot dog bar.
This post was sponsored by Dempster's. All opinions are my own.