Parents and grandparents everywhere love handprint crafts with their children and grandchildren's cute little hands. These Handprint Crafts for Father's Day are a great way to show Dad how much you love him this Father's Day.
If you are loooking for handprint crafts for dad, these 20 heartwarming Father's Day handprint ideas will fit the spot.
HANDPRINT CRAFTS FOR FATHER'S DAY
HANDPRINT WORK GLOVES AND POEM
this handprint work gloves Father's Day craft would make the perfectly practical yet sentimental gift.
DIY FATHER'S DAY HANDPRINT SHIRT
buy a plain cotton t-shirt and some fabric paint and markers and have your child "stamp" their handprints and write their names on a DIY Father's Day shirt for Dad!
EASY HANDPRINT FATHER'S DAY CARDS
make a personalized card for Dad with the kids' handprints. Use his favorite colors so he can display it on his desk or bulletin board at work!
these salt dough handprints are super simple to make and are a great way for the kids to leave their mark for Father's Day. Let your kids paint them any colors they like.
this Father's Day canvas handprint craft for kids is perfect for Dad to display on his wall. Buy an 8×10 canvas, paint, and markers, and then create!
HANDPRINT BASEBALL FATHER'S DAY GIFT
this craft is easy to make and the perfect choice for the baseball-loving Dad! Buy a baseball and an ink pad to create this gift.
I'M HOOKED ON DADDY HANDPRINT CRAFT
handprint crafts for Father's Day are cute, and this handprint fish craft is adorable for the Dad who loves to fish.
with your little one's handprints as the leaves, this craft is simple to make and one that Dad will cherish forever.
HANDPRINT YODA FATHER'S DAY CARD
Dads everywhere LOVE Star Wars and this Yoda Best Dad handprint card will make Dad smile on Father's Day.
DIY FATHER'S DAY HANDPRINT CRAFT
this handprint Father's Day craft only takes 10 minutes and a few simple items. Frame it with a decorative frame to add some style.
HANDPRINT DINOSAUR FATHER'S DAY CARD
cut out a dinosaur from construction paper and then paint your little one's hands to make the spikes! Add 2 googly eyes and you've got a great Father's Day keepsake!
buy a white tie, and paint your child's hand to make their handprint on this Father's Day tie.
this baseball handprint craft is a quick & easy Father's Day craft that can be done in just a few minutes.
BATMAN SUPERHERO HANDPRINT CARD
perfect for keeping a record of your child's little handprint, Dads and kids everywhere will love this Batman superhero craft.
the best part about this cute butterfly handprint card is that it is handmade. Perfect for a daddy's girl to gift to her Daddy.
FATHER'S DAY HAND PRINT SUN CATCHER CRAFT
use clear contact paper, tissue paper in various colors, alphabet stickers, glue and scissors to make this craft for Father's Day.
this Father's Day Card is super simple to make and adorable to give to dad. When Dad opens the card, his kid's hands will spring out of the card just like they are high-fiving dad.
using a mold, concrete mix, and a few other household ingredients, you can make this handprint stepping stone for Dad this Father's Day.
shrinky dinks plastic makes it possible for Dad to have little handprints with him all day with this handprint key chain.
HELPING HANDS GARDENING GLOVES
this is the perfect, personalized gift for those dads who don't fish, wear a tie. Gardening gloves and paint is all you need!
Which one of these heartwarming handprint crafts will you be making this Father's Day?
You may also like this HANDPRINT FAMILY TREE craft idea: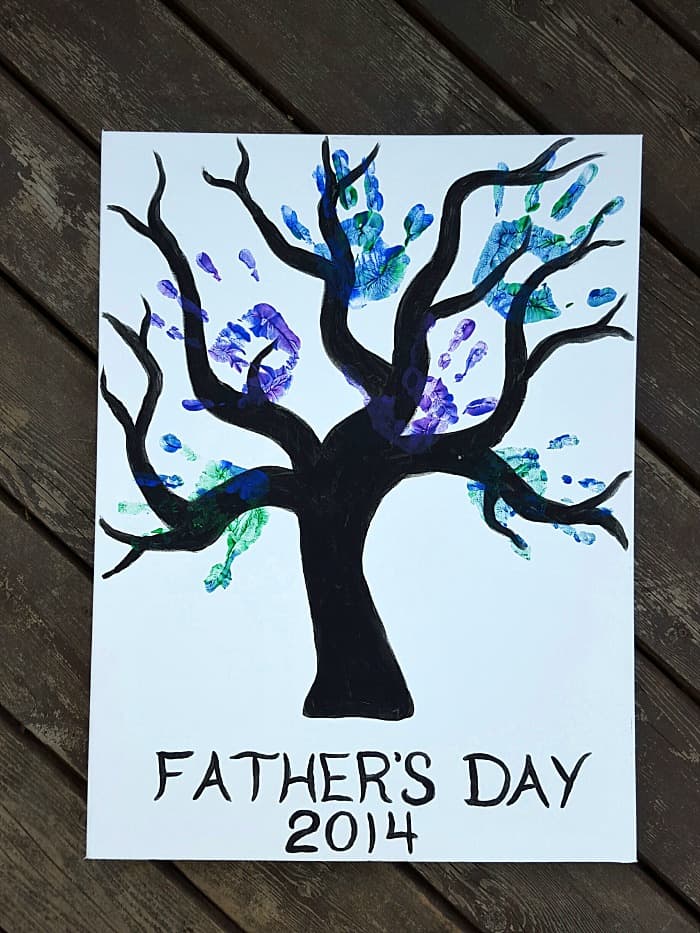 You can sign-up to get an email update each day. You can also connect with us on:
This post contains affiliate links for your shopping convenience.