Seems like these days I'm always making something new, It must be a teacher's never-ending nesting. Montessori for my own children has become a passion for me, and an extreme benefit to my girls. While I'm creating something new for school, I'm making something tailored just for my three beauties. This week, I made them global address nesting boxes.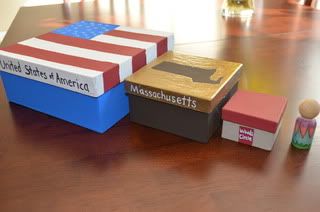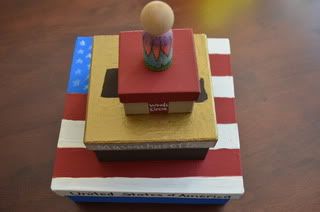 At the craft store, I bought three different size boxes and some paints. The whole project cost me around $10. Since my oldest is off to kindergarten in a few weeks, I want her to know her address forward and back. She has been writing out cards for the mail, and learning how to write an address. These boxes represent each line (street address is omitted for the post, the red door is our home). The boxes hide nicely inside one another, and also stack up in order of size much like some of our favorite sensorial materials. I also put little artifacts or photos inside representing each area. From large to small, I made one for our country, state, and home, followed by a mini doll for each person. I have made one for the wide universe, the order starts with the largest. Universe, milky way, solar system, Earth, Continent, Country, State/Region, Town/City, Building, Person, Atom. For Primary aged children, I love presenting this work along with my favorite map book, This Is Me and Where I Am by Joanne Fitzgerald.
I'm no artist, but my children know that I make them things from the heart! How do you explore your global address?
Jessie is a Primary Montessori Teacher and Mom to twin three year olds and a five year old. Jessie has a Montessori blog at The Education Of Ours, and can be found on Twitter. See her other Mommy Moment posts here.