Don't forget to enter the to win the $50 gift card for Constructive Playthings! They have so many wonderful things – many work well in a Montessori environment!
A while back I posted a fun Frog craft we did on Work of Art Wednesday.
The children had loved learning about frogs, so I thought I would share some pictures of a work they love to do for Monday's Montessori Moment.
We also made a little book to go along with these Nomenclature cards. Both the book and the cards were from Montessori Print Shop.
Now for something completely different.
Some children have difficulty learning how to use scissors. One work that is out on our shelf all the time is a tray with strips of paper, a small dish, and a pair of scissors.
I draw lines in a variety of ways on the paper and use different colors of paper.
This work is chosen often by the children!
And when a spill occurs, a small brush solves the problem!
Do you have any other works that help children learn the skill of using scissors? Please share!
***Be sure to come by tomorrow as I will be having a giveaway for something you would all love!!! It would be great for homeschool, Montessori or anyone with kids!***
Also feel free to Link up your Montessori Moment!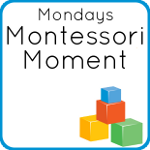 (Please be sure to display our Mondays Montessori Moment Button in your post or sidebar!)
Please put the name of the post in the link title and link directly to that post, not your blog home!


Because of YOU we are considered a Top Mommy Blog. Just click here to vote for us. Clicking on the brown screen that pops up is all you have to do! You can vote once a day! Thank-You!