I have received many comments and e-mails from readers who want to know more about Montessori and how they can make their home child-friendly. Who better to answer this than my friend Andrea Coventry, a Montessori child, now Montessori educator.
Montessori philosophy is child-centered and adult-prepared. To make it work in the home, you have to make the environment child-friendly and model appropriate behaviors. It takes some time and effort on your part, but the end result is worth it.
"Help me to do it myself."
This is fundamentally what all children want. They crave independence. Your job is to help them become independent. Montessori philosophy dictates the focus to be on process not product. A child will never learn to clean up her spill if you're doing it for her all of the time. She needs to be shown how to take the sponge, to wipe it across the water, then squeeze it out in the sink. She needs to learn how to properly hold the broom, and to manipulate it, so that all of those crumbs go into a manageable pile. Each tiny step needs to be exaggerated, and it must be demonstrated slowly. Use little language, other than naming the items used. "Actions speak louder than words."
Facilitate the process by providing equipment that fits your child's size. It's easier for the child to navigate a broom that comes up to her waist, instead of the adult-sized broom that is literally over her head. Give her a stepstool so that she can safely reach things that are high. You can find child-sized cleaning tools at dollar stores, Big Lots, and some grocery store chains, like Wegmans. Stock up on these, and give your child her own special storage area, where everything is within her reach. Allow her the freedom to choose to get out these tools and practice. Another key to development and learning, to elicit that inner spiritual self to emerge, is to allow for repetition and practice.
"Patience is a virtue."
For the child to master a task, he will have to perform it again and again. You may have to demonstrate it again and again. Montessori taught that to nurture a child's spirit, when a child makes a mistake, simply put the activity away and present it again at another time. In my training, we were taught to say, "May I show you another way to do that?" Never say, "You're doing it wrong!" Eventually, the child will get the concept, through trial and error.
"Do as I do, not as I say."
Think really hard about how you do and say everything. Children are little sponges, and they will mimic everything. And Murphy's law dictates that the bigger your blunder, the more likely they are to repeat the mistake. (Although, this can lead to some comical stories later on.) Model appropriate behavior, especially when trying to demonstrate how to perform a specific task. When you mess up, and we all screw up from time to time, explain why you made the wrong choice and how you are going to fix it.
"MINE!"
Children have the right to their own things and their own space. A child-friendly home provides these in all areas. Provide a stepstool for the child so that he can reach items on counters, the sinks, etc. Have a child-sized table and chair, at which he can comfortably sit. Give him his own drawer or shelf in the refrigerator and lower cabinets, so that he can get his own snacks. He can have his own laundry hamper for dirty clothes, so that he can help sort and wash them. Put toys, art supplies, and books on lower shelves or in labeled bins. This allows him to access them independently, as well as keeping them organized.
The child also gains ownership as he learns how to perform different tasks in the home. For example, let him plant the bean seeds in the garden, and be in charge of watering and weeding them. The satisfaction he gets from watching them grow will boost his self-esteem. Figure out where his strengths lie, and put him in charge of those areas.
As you adjust, try to do one new thing a week. Then one new thing every couple of days. Eventually add more as you feel comfortable. Experiment with different activities and different techniques. Observe your child's reactions and interactions. Write down what works and what doesn't work. Read as much as you can, whether it's on blogs such as Mommy Moment, other online articles, or great books and magazines. Converse with others about your triumphs and failures. Learn from each other.
"These are a few of my favorite things."
I would be remiss if I didn't mention a couple of my other favorite resources.
First, to toot my own horn, here is an article that I wrote about creating a child-friendly kitchen. http://www.associatedcontent.com/article/1675112/how_to_prepare_your_kitchen_for_childfriendly.html?cat=25
And here is a piece I did on starting a Montessori homeschool. http://www.brighthub.com/education/early-childhood/articles/68836.aspx
My friend @C_Joy has a great lens about a child-friendly home. http://www.squidoo.com/Child-Friendly-Home
Read The Montessori Method by Maria Montessori.
Check out Montessori in the Home books by Elizabeth Hainstock.
Read How to Raise An Amazing Child the Montessori Way by Tim Seldin.
Start off right with infants and toddlers with Montessori From the Start by Lynn Lillard Jensen and Paula Polk Lillard.
Andrea Coventry is a Montessori child, now Montessori educator. Follow her on Twitter @AndreaCoventry or @MontessoriWrite. Check out her online writing contributions on a variety of topics by visiting http://montessoriwriter.blogdog.com/where-to-read-me.


Do you have a Montessori Post you would like to link-up?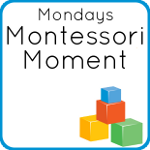 (Please be sure to display our Mondays Montessori Moment Button in your post or sidebar!)


Please put the name of the post in the link title and link directly to that post, not your blog home!


Because of YOU we are considered a Top Mommy Blog. Just click here to vote for us. Clicking on the brown screen that pops up is all you have to do! You can vote once a day! Thank-You!