Although it is September and we are getting into the fall season, I have a few sweet colours from Essie's Summer 2015 collection that will say a final farewell to summer and push my nails designs into the 'autumn' category.
Peach Side Babe includes:
Chilato – pale yellow green
Sunset Sneaks – coral-red
Peach Side Babe – peachy colour with hits of pink
Private Weekend – white with a slight shimmer
Pret-a-surfer – navy blue
Salt Water Happy – light periwinkle blue
I'm also sharing with you Essie's new gel setter polish.
First I used Chilato and boy do I love this colour! At first glance you'd think it was a mint green but on closer inspection you see it has hints of yellow too that make it purely stunning. I just did a simple black and sparkle design over top so as to not distract from the gorgeous colour that Chilato is.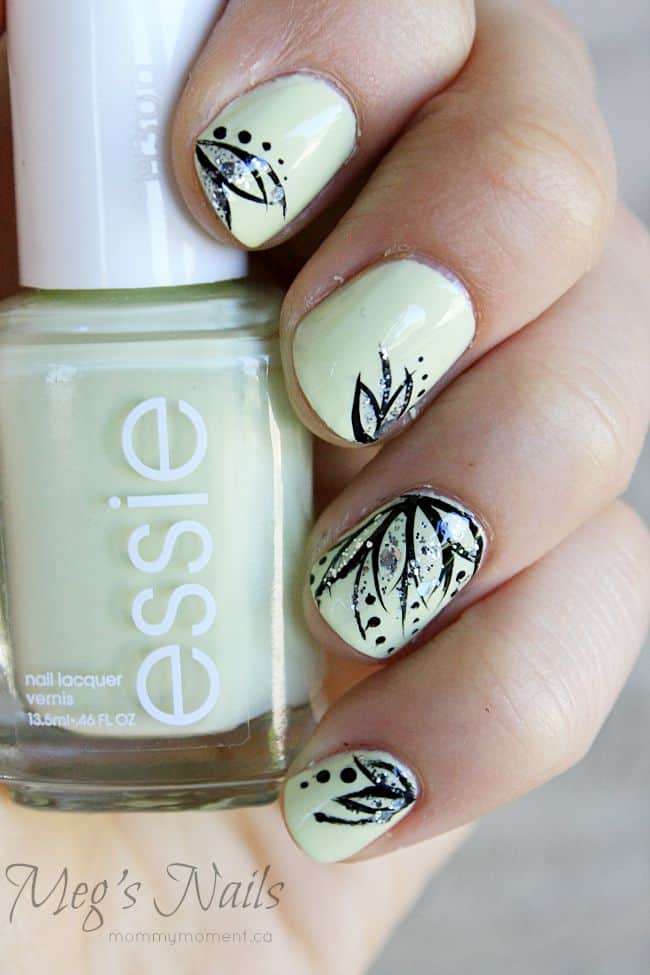 I used Essie's gel setter top coat over this design and could actually tell a difference from a normal top coat. This polish is thicker and therefore gives a gel like look to the nail and makes it look more professional than many top coats do. I notice that with some top coats the shine they give off on the first day wears off after a while but this coat keeps your nails shiny until you want to take them off. This is definitely my new favourite top coat!
Then I combined Sunset Sneaks, Peach Side Babe and Private Weekend in a floral design. In the bottle, Private Weekend looks quite shimmery but on the nail the shimmer almost completely disappears. This was good for me because I like my whites with minimal sparkle, but if you're looking for a shimmery white this is not the bottle for you. Sunset Sneaks and Peach Side Babe both impressed me and looked great side by side in this floral design.
I didn't get to try out Salt Water Happy but that polish has now gained a spot on my bucket list and hopefully one day soon, I will get in off the shelf and onto my nails.
Have any of these gained a spot on your bucket list?
To see more beautiful nail art created by Meg, check out our Nail Art and Design Board on Pinterest or follow Meg on Instagram at megsnails1360.
You can sign-up to get an email update each day. You can also connect with us on: