Before learning how to write, Montessori students have plenty of work with knobbed cylinders, peg puzzles, and Practical Life to strengthen and refine the movements of the hand. When little hands are first learning to write, the using a pencil may feel overwhelming. At times, children feel a struggle with the permanence of writing implements. Fixing each mistake, while wrinkling the paper with the eraser can be frustrating for the youngest child. We can ensure a writing experience that encourages a child in this stage by preparing stress-free and relaxing writing experiences. There are many fun ways children can exercise writing skills that don't feel so permanent.
First, I like to introduce writing and drawing on a wall mounted or easel chalkboard. Using the whole arm and crossing the mid-line are large movements, and it all can be erased with ease. For practice in small space, I like Rock Painting. Using a paintbrush, a little water for dipping, and a (unpolished) stone from nature we can easily prepare an air-dry exercise for the hand. Writing or drawing in sand at a beach or in mud in the back yard is so fun! In the winter, my children love a tray full of sand for writing practice called a sand tray.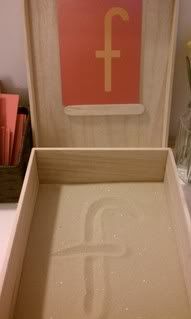 Sometimes children who are able to spell may have trouble writing each letter. For this, I recommend using the movable alphabet. Many times, the ability to sound out words comes before comfortably writing them down. As a child get a little older, chalkboard work can be on a table and the board can be a bit smaller. A natural writing progression for early childhood is large to small. I find Buddha Boards, Aquadoodles, and Magnadoodles to be a relaxing and temporary writing experience for children that also provides a calming effect for a child who is easily frustrated by writing. The most important thing to remember is to make writing fun, whatever form it takes!
Jessie is a mother of three beautiful daughters (twin tots & a preschooler), an AMS trained Montessori teacher of 40 students, and a wife to one. Jessie has a background in dance, a yoga certification, and a Masters in Early Childhood Education. Jessie has a childhood education blog at http://educationofours.blogspot.com/.