If you are looking for a delicious breakfast featuring quinoa, then this coconut almond quinoa breakfast bake is for you!
COCONUT ALMOND QUINOA BREAKFAST BAKE
When we have leftover quinoa, we enjoy this easy quinoa breakfast bake. We make this recipe with no sweeteners so it can be added after it is baked if needed.
I sometimes add hemp hearts instead of the almonds depending on what I have on hand.
Coconut Almond Quinoa Breakfast Bake
A delicious breakfast made from leftover quinoa
Ingredients
3 eggs
3/4 cup coconut milk
3 tbsp almond butter
1 tsp vanilla or almond extract
2 tbsp cinnamon
2 cups cooked, cold quinoa
1/4 cup coconut flakes
1/8 cup slivered almonds (optional)
(1 tsp coconut oil for greasing pan)
Instructions
Preheat oven to 375 degrees.
Grease a 9x9 pan with coconut oil and set aside.
Mix together the first 5 ingredients in a mixing bowl.
Add quinoa, coconut and slivered almonds to the egg mixture.
Pour mixture into the greased pan and put in oven.
Bake for 30 minutes.
Remove from oven and let sit for 10 minutes before serving.
To serve, cut in pieces and enjoy. I like mine with coconut milk poured over it and my girls like to add a touch of pure maple syrup.
If it is not sweet enough for you, add more syrup. Mmm!!!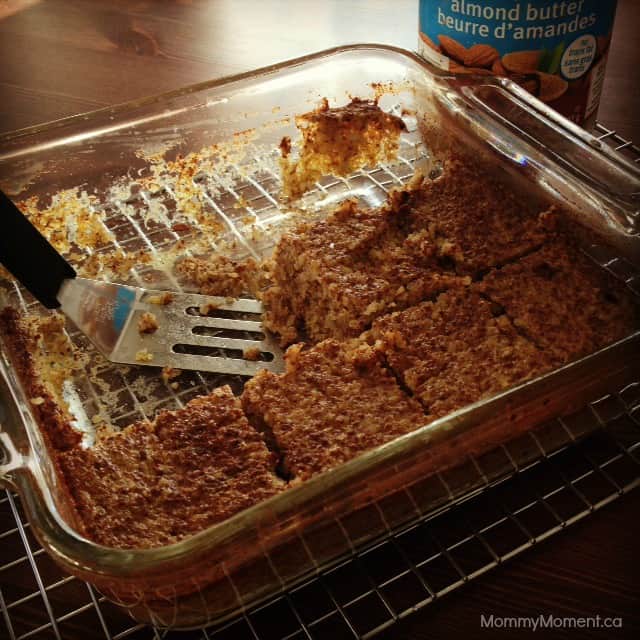 You may also enjoy this breakfast banana split.
You can sign-up to get an email update each day, follow us on Twitter, Facebook, Pinterest, Instagram, Google+ and Blog Lovin'.